When writing this article, 1 euro was worth
US$
1.57
Last Saturday, March 30, the Artcurial Auction House located in Paris was holding its annual comic book auction. More than 600 pieces including signed prints, original editions and, of course, original artwork were looking for new owners. The main and most prized of these items: an original Hergé painting for the cover of the first Tintin album "Tintin en Amérique" made in 1932. Estimated at about 280, 000 euros it was supposed to become the new highest comic book art ever sold in the world. The previous record holder was an Enki Bilal painting called "Bleu sang" sold in March 2007 for 177, 000 euros . At the end of the day, the Hergé painting finally did become the highest comic book art ever sold in the world, but with a far wider margin than everyone expected, with the auction finally closing at 650, 000 euros (764, 200 euros with the fees).
But this was not the only surprise of the day since many more pieces sold over their initial values. Most notably was an Enki Bilal original painting made for one of the pages of his "tétralogie du Monstre" which sold for 145, 000 euros (excluding fees). It was previously estimated at 20, 000 euros. The other important surprise was a Corto Maltese portrait made by creator Hugo Pratt, estimated at 30, 000 euros, but the auction closed at more the 8 times that amount (250, 000 euros excluding fees). Most of the other auctions' final prices have not yet been officially released by Artcurial but the total amount of the sale is rumoured to be around 3.4 millions euros.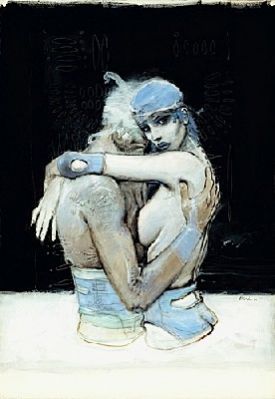 But why do these comic book originals sell for so high? Many believe that comic art has finally attained the same status as the other art forms. Which might be true since in Europe comic books are often referred to as the "9th art". Others explain it by the growing reputation of some European comic book creators (Bilal, Moebius, Hergé, etc…) who are more and more cited as influences for other creators around the world. And as they get more popular (and paid…), less and less of their art reaches the market. Artcurial even reports that the number of customers is not their problem right now. Their real problem is that interesting pieces are getting harder and harder to find, thus creating a sellers market.

But it is also important to mention that many consider comic art to be undervalued when compared to contemporary and modern arts, and see a potential investment. A speculative bubble might be starting to appear where there was none before. You also have to take into account that even if such events make this market look glamorous, the number of comic book artists selling their works for such amounts is limited to a handful. Many struggle for a long time just to make a living even in Europe where the health of the industry is considered good.

Will next spring's auction shatter this year's record? Will creators open their vaults to the market? Will we see the speculative bubble take center stage? The only sure thing is that these artists created some great comic books. If you haven't given it a try, you should. As for me, I'll be lucky if I can one day afford a Bilal signed print.


Sources:
Artcurial.com
Agence France-Presse
Lefigaro.fr
Le Journal de Québec


Questions? Comments? You can reach me at pberube@comicbookbin.com
© Copyright 2002-2019 by Toon Doctor Inc. - All rights Reserved. All other texts, images, characters and trademarks are copyright their respective owners. Use of material in this document (including reproduction, modification, distribution, electronic transmission or republication) without prior written permission is strictly prohibited.