Hellboy II: The Golden Army (2008)


In Hellboy II: The Golden Army, the breaking of an ancient truce between humankind and the denizens of the invisible realm means Hellboy, the big, red, horned hero, will have to face his toughest challenges to date – save the world and save his relationship with his favorite flammable chick.
In distant, ancient times, there was a war between humans and mythical creatures. A Goblin built an unstoppable clockwork army for Balor, King of the Elves (Roy Dotrice), but Balor grieved when he saw the carnage inflicted upon humanity by this "Golden Army" of 4900 mechanical fighters. Balor called for a truce that would allow humans to live in their cities and that would allow the mythical creatures to keep to the forests. The Golden Army was locked away in a secret location.
Cut to present day, Balor's son, Prince Nuada (Luke Goss), has returned from exile. Having never agreed with the original truce between humanity and his father, Nuada sets about reuniting the three pieces of King Balor's crown, the device that will allow him to raise the Golden Army. This time, Prince Nuada will not stop the Golden Army until it has destroyed humanity.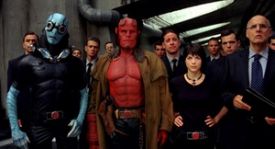 Meanwhile, Hellboy (Ron Perlman) is having relationship issues with his girlfriend, Liz Sherman (Selma Blair), and chafing under a government order that the existence of Hellboy and the Bureau for Paranormal Research and Development (BPRD) must remain a secret. When Prince Nuada launches his first attack on the human world, Hellboy, Liz, and their BPRD comrade, Ape Sapien (Doug Jones), a fish-man, must put aside their domestic issues. Joined by Prince Nuada's twin sister, Princess Nuala (Anna Walton), Hellboy and company take on the fight of their lives, but find their job complicated by a strange new special agent, Johann Krauss (voice of Seth MacFarlane), a gaseous being living in a containment suit.
Some filmmakers make movies that seem right out of a dream, one of them being Guillermo del Toro, the brilliant creator of such films as The Devil's Backbone and Pan's Labyrinth. Hellboy II: The Golden Army is a sequel to del Toro's 2004 movie Hellboy; both films are based upon the Hellboy comic books from creator Mike Mignola (who co-wrote this film's story). Hellboy II is a daydream, nightmare, hallucination and reverie right out of the deepest parts of minds, which still holds onto the fear of mythical creatures. Del Toro mixes the gossamer-spun enchantment of a fairytales, the elegant gothic mood of old-school monster movies (especially from Universal Studios), and the kooky, but grand comic book monsters of Jack Kirby to create probably the most vivid and imaginative fantasy film since Lord of the Rings.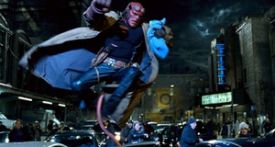 Hellboy II certainly has fanboy wit, the kind that will bring in fans of the Hellboy comic books, of comic books in general, and of fantasy and horror films. Hellboy II, however, is an exercise in old-fashioned monster movie style; even the CGI creatures move like they were created by Ray Harryhausen. And imagination: this film has imagination to burn. Every nook and cranny, seemingly every frame of film, and every scene is occupied by fantastical creatures, weird people, bizarre beings. Del Toro's film doesn't just claim that there is a shadowy other world next to ours, existing mostly unseen; Hellboy II brings that world to life. From a "goblin market" under the Brooklyn Bridge to a giant, green forest god with tentacles and a mantis' face stomping through New York City, the fantastic is made flesh. And Hellboy II: The Golden Army is made great.
This film isn't just another big budget special effects bonanza. The heart of the film's narrative is a tale of misfits that can't hide what makes them bizarre-looking, outsider oddballs. The public might initially embrace their fantastic looks, but the novelty soon wears off. Does it make sense to save a world that doesn't want you in it? Because it asks this question and because of the way it tries to find answers, Hellboy II takes its place next to such magnificent fairy tale-based fantasy films as The Wizard of Oz and La belle et la bête. Hellboy II is certainly among this year's very best.
A+
© Copyright 2002-2020 by Toon Doctor Inc. - All rights Reserved. All other texts, images, characters and trademarks are copyright their respective owners. Use of material in this document (including reproduction, modification, distribution, electronic transmission or republication) without prior written permission is strictly prohibited.