Starring:

Ron Perlman, Selma Blair, Doug Jones, James Dodd, Jeffrey Tambor, John Alexander, Luke Goss, Anna Walton, Seth McFarlane
Director: Guillermo del Toro
Writer: Guillermo del Toro
Executive Producer: Chris Symes
Producers: Lawrence Gordon, Lloyd Levin, Mike Richardson, Joe Roth


Genre:

Action, Fantasy, Comedy


Rating: MPAA – PG-13 for sequences of sci-fi action and violence, and some language.
Distributor: Universal

I was convinced that I could predict

Hellboy 2: The Golden Army

from beginning to end. I thought that Guillermo del Toro had amassed a run-of-the-mill action movie with special effects, cheesy one-liners and a predictable plot. Although most of these descriptions could, sometimes, be applied to the movie, it turned out to be totally different from what I had expected. It had a decent story, fun action, wacky comedy and splendid visuals. Of course it had its logical flaws and, at points, poor visuals, as well as a few cliché moments, but the package as a whole was quite enjoyable and, best of all, deviated from the norm.

The plot, continuing from the last film, opens with the story about a mythical, indestructible golden army being told to a young Hellboy. The golden army was created by the elves to fight the humans. The elves decided to end the war and create a truce with mankind. They then proceeded to lock away the army and split apart the crown used to control it into three pieces, so it could not be woken again. Two were kept by the elves, and one was given to mankind. However, the son of the elf king (Goss) was not pleased with this decision. The plot then cuts to present day where we learn that the story was not a myth, and the son of the elf king is on the hunt to collect the pieces of the crown. It is Hellboy's job to prevent him from gaining control of the golden army, while, at the same time, deal with his own personal issues – issues of the relationship variety. His girlfriend, Liz Sherman (Blair), is pregnant and does not have faith that Hellboy (Perlman) will make a good father, or a good boyfriend at that. As well, Abe Sapien (Jones) has his own love related issues. He has fallen in love with the daughter of the elf king (Walton). Abe and the rest of the group are watching over her because she has one of the crown pieces that her brother is looking for.
As you can see, the movie is a mixture of a love ballad and an action film. In fact, I would say that the movie is predominantly a love ballad due to the heavy emphasis on love and relationships. This makes the movie all the more interesting and unique. Very rarely do you see a comic book or superhero movie that contains such romance and drama. The movie also overflowed with an abundance of humor and awesome special effects. Like the first Hellboy , there was a concoction of witty comments and wacky, sometimes slapstick humor. The music did a great job at accentuating this wacky theme. The special effects were great, and again, like the first movie, there was a huge emphasis on gears and mechanical objects, lending the movie a Steampunk quality.
The acting was fine, aside from the cliché one-liners that were thrown in every now and then. Ron Pearlman played a funny and lively Hellboy to perfection. I also enjoyed Doug Jones and James Dodd, both of whom played their roles rather well. The rest of the cast did a good job as well, nothing too great, but nothing horrible.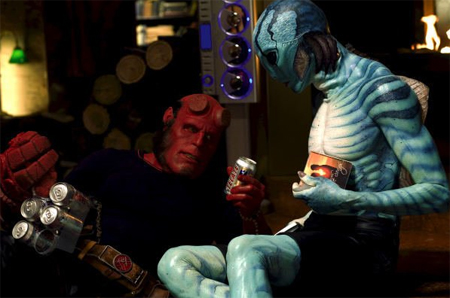 There are a few issues that I would like to point out. First off, the costume design could have been a little better, especially at the beginning when we meet young Hellboy. The kid looks as though he is wearing a mask. It is not realistic at all. Second, at one point Hellboy's team acquires a piece of the crown. Why did they not destroy it right then and there, putting an end to the whole dilemma altogether? Finally, the title of the movie was rather deceiving. They say that the story is about the golden army, but rather, as I have shown, the golden army is more of a side plot. They throw it in every now and then to keep the movie going, but it sits on the sidelines most of the time while romance takes the lead. This is not such an issue because it did not ruin the experience. However, they should have considered giving the film a different title.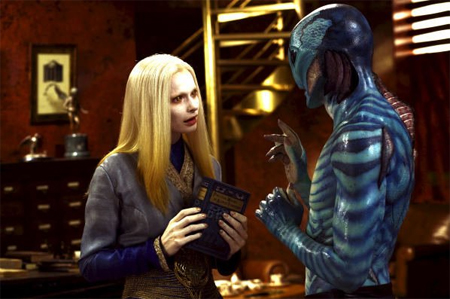 Hellboy 2: The Golden Army is a great movie to watch with friends. Although, I do not think it is more than that. It will deliver a fun time, but it is not a film you can watch over and over, and is not thought provoking. It is strictly entertainment with a romantic twist, and if you expect otherwise, you will be sorely disappointed. If you want to have a good time, watch this deviant action comedy.
7.5/10
© Copyright 2002-2019 by Toon Doctor Inc. - All rights Reserved. All other texts, images, characters and trademarks are copyright their respective owners. Use of material in this document (including reproduction, modification, distribution, electronic transmission or republication) without prior written permission is strictly prohibited.