Entering the Charlotte Room in downtown Toronto, I got a sense that I was walking into something much more formal than what I had dressed for. Aside from the Hellboy 2 paraphernalia that was everywhere, the ambiance of the bar was clean and subdued. This got me thinking that maybe this event was not made for the fans, but rather for a more mature and sophisticated audience. Alas I was wrong, for the most part. Yes, there were some suits and business type folk, but the majority of the crowd was, surprisingly, nerds! Well it is not really that surprising. In all honesty, why would the fans not come? It was at this point that I realized that I was a sore thumb at the event. I heard people discussing the comic books and graphic novels, but had absolutely no idea what they were saying. I felt so out of the loop. I guess that just goes to show you to never judge an event by its setting, but rather on its food, which was amazing! They served all different kinds of snacks, from meatballs to assortments of pizza to chicken on a stick. It was delicious.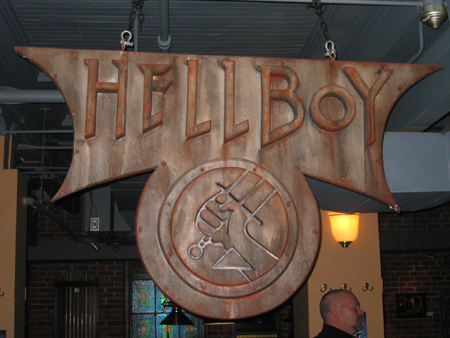 There were two areas in which the event took place. One room had a few pool tables, a buffet, and a bar. The other had a screen showing Hellboy 2 with couches set up around it, and a table with some cool Hellboy figurines and a replica of Hellboy's right arm. I spent a lot of my time in the bar area just mingling, drinking beer, being all cool like, and eating a lot of food. The fun really started when the Hellboy look-alike showed up. This guy was awesome! He had the whole getup with every last detail accounted for. Apparently this fellow has been in front of cameras all day, doing interviews, getting pictures taken of him and so on. I felt kind of bad for the guy. Aside from the fact that he had to constantly pose, he probably got really sweaty in that costume. Although, the weather was quite cold outside, so maybe his costume performed the same function as a good jacket; Who knows? I digress.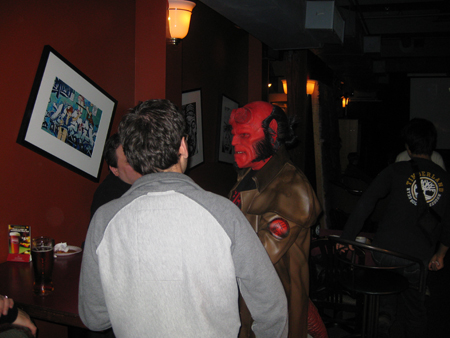 The real question was "where is Ron Pearlman?" The whole night that question ran through my head. Even though I knew he would not come, I kept my eyes open. Every time I heard someone say anything that sounded like "Ron" or "Pearlman", my head jerked around. Maybe the Hellboy look alike was Ron Pearlman even though the name of the guy in the costume was something along the lines of Nelson. It's sad, I know, but a boy can dream, right?
As the event winded down, they held a raffle where they gave away Hellboy collectibles and prints. Again I felt like such an outsider. As the host was naming the artist of the prints, I looked around and noticed people's reactions; they wanted the prize more than anything in the world. I, on the other hand, had no interest in having a picture of Hellboy unless Da Vinci drew it, which still might not interest me that much.
Of course who can forget about the SWAG? They gave out bar towels, collectible figurines, graphic novels, pins and posters to everyone who showed up. This was the icing on top of a fun and delicious evening. Now to go and actually watch the movie! Hellboy 2: The Golden Army is available now, on DVD and Blu-ray.
© Copyright 2002-2019 by Toon Doctor Inc. - All rights Reserved. All other texts, images, characters and trademarks are copyright their respective owners. Use of material in this document (including reproduction, modification, distribution, electronic transmission or republication) without prior written permission is strictly prohibited.