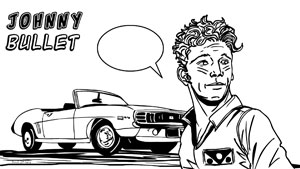 Manga
Hayate the Combat Butler: Volume 24 Advanced manga review
By Leroy Douresseaux
September 8, 2014 - 15:41
Publisher(s): Viz Media
Writer(s): Kenjiro Hata, John Werry
Penciller(s): Kenjiro Hata
Letterer(s): John Hunt
ISBN: 978-1-4215-3907-2;
$9.99 U.S., $12.99 CAN, £6.99 UK, 192pp, B&W, paperback
Rating: T+ (Teen Plus)



Follow me on Twitter.

Rated "T+" for "Older Teen"

Since he was nine-years-old,

Hayate Ayasaki

has been working to pay off his degenerate parents' gambling debts. They eventually sold their son's organs to the yakuza to cover those debts, just before they disappeared. Hayate worked various part-time jobs to pay off those debts. Then, fate brings Hayate to teenaged heiress,

Nagi Sanzenin

a/k/a "

Ojô-sama

." She is the frequent target of kidnapping plots and various schemes by people trying to get her money. Hayate becomes Ojô-sama's butler, zealously protecting her, while she falls in love with him.

Hayate and Nagi and their friends: Hinagiku, Isumi, Ayumu, Segawa, and Nishizawa took their Golden Week vacation in the Greek Isles. As Hayate the Combat Butler, Vol. 24 opens, that vacation is coming to an end. Ojo-sama rents every floor of the "swankiest" hotel in Greece for a big, final-night party. Hayate is not in the celebratory mood; he has to choose between Ojo-sama and "Ah-tan." Who is Ah-tan, you ask?

She is Athena Tennos a/k/a "Ah-Tan," a childhood friend of Hayate's. After last seeing her ten years earlier, Hayate finally reunited with her, but she wants nothing to do with him. He wants one last chance to tell her how he really feels about her. However, it won't be that easy, as he will need Isumi's help to save Ah-tan – even if she doesn't want saving.

THE LOWDOWN: As I wrote in my review of the previous volume, it took me some time to really like the Hayate the Combat Butler manga. Now, I am a fan and look forward to each volume; I thoroughly enjoyed Hayate the Combat Butler Volume 24.

In Hayate the Combat Butler, creator by Kenjiro Hata mocks,spoofs, and also gently makes fun of the conventions of anime and manga. Everything in the otaku wheelhouse eventually gets skewered. That is the general accepted description of the series.

However, I think that Hayate the Combat Butler really spoofs itself, and is heavily self-referential. The more you know about its ins-and-outs, its characters, subplots, myriad back story, relationships – personal, business, and otherwise, the more you can enjoy it. The series makes sense when the reader has a sense of how it works, if not why it works the way it does.

I have reached that point, and I am more curious about it than I ever have been. Honestly, this is not a series for new readers, unless new readers go back to the beginning. If you start several volumes into the series (as I did), be prepared to read several volumes of Hayate the Combat Butler. Then, you'll get it; then, you'll be glad you get it.

POSSIBLE AUDIENCE: Readers looking for comedy about manga and anime can find laughs in the Shonen Sunday manga, Hayate the Combat Butler.







© Copyright 2002-2019 by Toon Doctor Inc. - All rights Reserved. All other texts, images, characters and trademarks are copyright their respective owners. Use of material in this document (including reproduction, modification, distribution, electronic transmission or republication) without prior written permission is strictly prohibited.