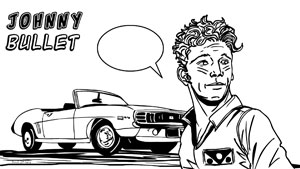 DC Comics History
DC Comics History: Black Canary
By Deejay Dayton
Apr 6, 2016 - 8:07
Publisher(s): DC Comics





Black Canary edged Johnny Thunder out of his own series, but as she took the reins of the strip in Flash Comics, it changed mood and style hugely. Robert Kanigher, Carmine Infantino and Joe Giella gave the heroine's tales the feel of film noir, and made her a significant element of the period 1948 – 1951: End of an Era, despite the brevity of her run.



Flash and Hawkman welcome Black Canary to the cover of Flash Comics 92 Apparently the books other features, the Ghost Patrol and the Atom, are not as happy that she joined the book. We meet Larry Lance, a loser private eye interested in flower shop owner Dinah Drake. Larry is on the case of some men who hijack trucks, and after Dinah receives an order for a black funeral wreath for Larry, Black Canary appears on the case. The two work as equal partners when it comes to the big fight scene, each taking down some of the criminals. Black Canary is the one who figures out how the crooks pulled off their hijackings.



We also see that Canary has a knife concealed in her choker, which she can activate with her chin. Seems like the knife would be more likely to injure Canary than anything else. The very end of the tale reveals that Dinah Drake is really the Black Canary, for any reader too clued out to have put that together themself. This is also the first tale to reveal that Black Canary wears a wig when in her guise, something that was never hinted at in Johnny Thunder's strip.



Between the shady private eye, and the overall artistic look of the series, the Black Canary strip feels reminiscent of the very popular films noir from the period. Not much would change during the course of her run, but I will highlight some of my favourite tales.



The Black Canary story in Flash Comics 93 was reprinted in a 100 page World's Finest in the 70s, and was the very first Black Canary story I ever read. It begins quite memorably, as a cloaked woman comes into Dinah Drake's flower shop, and dies. She was carrying a glowing orb, called the crimson crystal (despite not being crimson, or a crystal). Other members of the sect followed her, and kidnap Larry Lance while Dinah is changing costume. The police are clearly not yet convinced that Black Canary is on their side, as they accuse her of murder.



Canary seeks out the lair of the crimson crystal people, all women who have been deceived into thinking that they will gain eternal life from the crystal. She reveals that it is a simple ornament with a lightbulb inside, and exposes the fraud leading the group. A fairly simple story, but I just loved it.



Flash 96 gives a very film noir opening to its Black Canary tale, as Dinah Drake and Larry Lance find a dead body in a drugstore, which vanishes by the time the police show up (and Dinah has changed to Black Canary). They spot a newspaper clipping left behind, about a topaz brooch, which leads them to a big charity circus-type event.



The brooch does get stolen, and Black Canary spends the remainder of the story trying to get it back, and showing off her guts. First on a motorcycle, jumping through a flaming hoop. Later, she jumps from the wing of a plane, and rides a parachute down to the ground to catch the murderous thieves. Larry follows behind, but you sure don't get the feeling he would have done any of this on his own.



The Black Canary story in issue 98 also opens much like a film noir. Dinah Drake comes back to her flower shop, to find it has been turned into a grocery store in her absence. It's being used as a trap for a millionaire, whose niece is plotting to have him killed. Larry Lance is more in the background of this story, with Canary handling the bulk of the action on her own.



The death-trap that Black Canary gets put into makes one think of the Road Runner and Coyote, with a rock being dropped onto a board to fling Canary to her deaths. But Black Canary does not stand around and wait to be killed, jumping off the board and taking down the bad guys.



I need to mention the one and only Black Canary solo story that did not appear in Flash Comics, and which endowed her with an ability never used before, or since, an inherent ability to control birds. The story in Comic Cavalcade 25 is also her own solo tale without Larry Lance hanging around.



Black Canary comes to the aid of a man who has inherited a nightclub, but is being menaced by the family lawyer, and also kidnapped and impersonated by his own brother. It's a complicated story, but made fun by the giant record player death-trap. Sad that the bird rescue is completely wrong for the character's range of abilities.



Black Canary's final outing, in Flash Comics 104, has a complicated plot, once again reminiscent of a film noir, in which Dinah Drake and Larry Lance come to the aid of a noted criminologist who may have been murdered while investigating an old case.



But it turns out the criminologist is actually the killer. It's a decent enough tale, but not a high point to go out on.

Black Canary continues to appear in All-Star Comics as part of the Justice Society of America. Larry Lance does not return until a Brave an Bold story in the mid-60s, although chronologically his next appearance is in a previously unprinted Black Canary story in DC Special in the early 70s.

Black Canary: Flash Comics 92 – 104 (Feb 48 - Feb 49)

Comic Cavalcade 25 (Feb/March 48)

Next up – Cowboy Marshal!


© Copyright 2002-2018 by Toon Doctor Inc. - All rights Reserved. All other texts, images, characters and trademarks are copyright their respective owners. Use of material in this document (including reproduction, modification, distribution, electronic transmission or republication) without prior written permission is strictly prohibited.