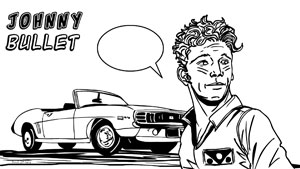 Comics News
G.I. JOE: Snake-Eyes: Declassified #2
By The Editor
August 2, 2005 - 09:29

G.I. JOE: Snake-Eyes: Declassified #2
Writer: Brandon Jerwa
Artists: Emiliano Santalucia & Jeremy Roberts
Format: 32pp color comic. Saddle stitched.
Retail Price: $2.95
Printer: Quebecor
Country of Origin: Published in USA Printed in Canada
Ship Date: September
UPC Code: 882142-00103-5 00201
ISBN: N/A
Synopsis:
The ultra-secret origin of Snake-Eyes continues! All he wanted when returned home from war was to see his family. Instead, he found death and tragedy. Now, the man who will be Snake Eyes enters the darkest period of his life – the chapter that's never been told!

© Copyright 2002-2019 by Toon Doctor Inc. - All rights Reserved. All other texts, images, characters and trademarks are copyright their respective owners. Use of material in this document (including reproduction, modification, distribution, electronic transmission or republication) without prior written permission is strictly prohibited.