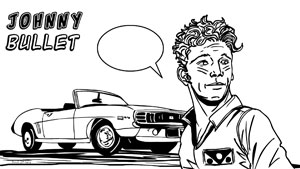 Comics News
A Call Out To All Canadian Comic Book Creators outside Quebec Working in French
By Hervé St-Louis
March 27, 2009 - 07:53
Following the announcement of the program of the Quebec City Comic Book Festival and their award, the Bédéis Causa, we asked the organizers if Francophones outside of Quebec were eligible to all of the awards offered by the organization, as it mentioned that it was a Quebec-based event. The organizers told us that they have welcomed non-Quebec works in the past. Their criterion is that the comic book has to be widely distributed in Quebec, and thus is not based on the province of origin of the creators.



This is good news for all Canadian comic book creators. Now, the problem is Francophone creators outside of Quebec, in other parts of Canada are a mystery to a lot of us. This is a call out by The Comic Book Bin asking all Canadian comic book creators, who create works in French, living outside of Quebec to please get in touch with The Comic Book Bin. I want to write an article on the Canadian comic book Francophonie outside of Quebec. I'm sure there are many of you. Just like you, I'm a Francophone living outside of Quebec, so I "get it." If you're Acadian, Ontarian, from the Prairies, the territories or the Westcoast, I want to hear from you and write about you. If you know anyone who falls into this category, let them know we are looking for them.
© Copyright 2002-2019 by Toon Doctor Inc. - All rights Reserved. All other texts, images, characters and trademarks are copyright their respective owners. Use of material in this document (including reproduction, modification, distribution, electronic transmission or republication) without prior written permission is strictly prohibited.