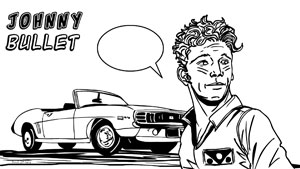 Comics News
The 2012 Calgary Comic and Entertainment Expo
By Hervé St-Louis
April 28, 2012 - 09:30
The Calgary Comic and Entertainment Expo was started in 2006 by Kandrix Foong, a local Calgarian already involved in the local comic book scene. ComicBookBin has attended the show since 2007 and we can attest that it has grown a lot. Right now, It's the second biggest comic book convention in Canada behind Toronto's FanExpo. The magical thing about the Calgary Expo is the guest list that Foong and his team manage to assemble every year. This year, for the first time since the cancellation of their venerable television series, the entire cast of Star Trek The Next Generation will be visiting Calgary. They will be celebrating their anniversary. Stan Lee of course will be on hand and so will Adam West.

But beyond the big names what makes this comic book convention with pretensions to be a pop culture gathering is the various comic book artists and local creators involved in Calgary culture that will be participating at the convention. I wrote years ago an important article on how comic book conventions are needed to build the local comic book scene in a city and how they need to mix with other cultural poles in their cities to attract a wider audience than the comic book collector in order to generate interest in comics. I'm not sure if Foong and his team ever read that article, but they follow pretty closely my prescriptions. Families are welcome at the Calgary Expo. That's important. But at the same time, hardcore geeks will find all the back issue bins and action figures they are looking for.



If you can make it in Calgary for the weekend of April 28-29, 2012, check out the Calgary Expo. There are several workshops of interests to all kinds of people interested in film making, gaming, animation, acting and more. Of course a good comic book convention would not be complete without a good dose of locals dressed up as their favourite characters. You'll find a lot of that too. ComicBookBin is on the grounds of the convention all weekend updating you on what happens and delivering interviews and more.


© Copyright 2002-2019 by Toon Doctor Inc. - All rights Reserved. All other texts, images, characters and trademarks are copyright their respective owners. Use of material in this document (including reproduction, modification, distribution, electronic transmission or republication) without prior written permission is strictly prohibited.