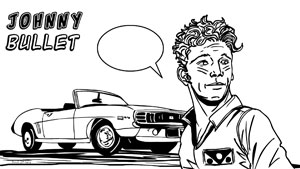 Manga
The Demon Prince of Momochi House: Volume 2
By Leroy Douresseaux
October 1, 2015 - 13:53
Publisher(s): Viz Media
Writer(s): Aya Shouoto, JN Productions
Letterer(s): Inori Fukuda Trant
ISBN: 978-1-4215-7963-4
$9.99 U.S., $12.99 CAN, £6.99 UK, 172pp, B&W, paperback
Rating: T (Teen)





Rated "T" for "Teen"





Himari Momochi

inherits an old house in the woods on her 16th birthday. She has never seen this domicile, which is called the

Momochi House

, and does not know that it already has three inhabitants. One of them, 17-year-old

Aoi Nanamori

, is practically the "Demon Prince" of Momochi House.

As

The Demon Prince of Momochi House

, Vol. 2 (Chapters 4 to 7) opens, Himari learns how Aoi became trapped in the Momochi House and how he became the "

Nue

," the protector, or "

Omamori-sama

," of the house. She wants to free Aoi, but is that what he really wants?

Also, a troubled ayakashi (demon) is recruited to the third shikigami, but water starts appearing in the house, which is either a plumbing issue or the start of a plan for revenge. Plus, unexpected visitors to the Momochi House start the ghost story, "The Fourth Friend."



[This volume includes the bonus story, "You May Enter."]





THE LOWDOWN:

Although I am a big fan of yokai-themed manga, I was cautious about

The Demon Prince of Momochi House

manga. The series, from creator

Aya Shouoto

, focuses on "ayakashi," an apparent old term for yokai. I was sure that this manga would be original, but I was unsure if it would be particularly intriguing.



The Demon Prince of Momochi House Volume 2

opens with more on the budding and complicated romance between Himari and Aoi. However, Shouoto moves deeper into the mystery of the house itself. I think Momochi House is as important to the series as Himari and Aoi. At this point, this mystery house is more interesting than the young romance of Himari and Aoi. In fact, Vol. 2 reveals that there will be some very interesting supernatural shenanigans going on. So yes,

The Demon Prince of Momochi House

could be particularly intriguing.



POSSIBLE AUDIENCE:

Fans of high school-age supernatural romance will want to visit

The Demon Prince of Momochi House

.







© Copyright 2002-2019 by Toon Doctor Inc. - All rights Reserved. All other texts, images, characters and trademarks are copyright their respective owners. Use of material in this document (including reproduction, modification, distribution, electronic transmission or republication) without prior written permission is strictly prohibited.