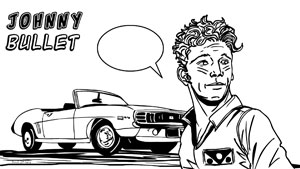 Comics News
Toon Doctor Releases TED app for HP webOS Smartphones
By Hervé St-Louis
November 15, 2010 - 23:18
Free

Toon Doctor, a property of Coolstreak Cartoons, the publisher of

The Comic Book Bin

has released a TED app for HP webOS smartphones.

TED for HP webOS is a free app meant to spread ideas related to technology, entertainment and design through the same spirit of the TED, the non-profit organization responsible for the TED Talks.

TED for HP webOS is probably the most comprehensive and the best of all TED app on any mobile platform ever. It includes TED Talks, TED Podcasts and more.

TED for webOS is the latest smartphone app developed by Coolstreak Cartoons in 2010. Coolstreak Cartoons has already launched three successful ComicBookBin apps (including several updates) for iOS, webOS and Android.



Features




Browse, search and view video of TED Talks;
Browse, search and listen to TED Podcasts;
Add TED Talks or Podcasts to your TED Favourites;
View a calendar of TED Conferences and add them to your webOS Calendar app;
View profiles of TED Fellows;
Shuffling tiles in landscape TED Talks and Podcast modes.
System Requirements
Compatible with webOS 1.4 and higher.
Download TED Now!

Find out about ComicBookBin apps for iOS, webOS and Android here.

Follow updates on the TED for HP webOS @ twitter.com/ToonDoctor

© Copyright 2002-2019 by Toon Doctor Inc. - All rights Reserved. All other texts, images, characters and trademarks are copyright their respective owners. Use of material in this document (including reproduction, modification, distribution, electronic transmission or republication) without prior written permission is strictly prohibited.