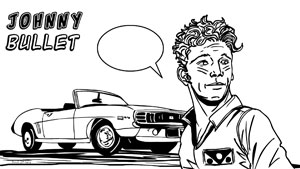 Comics News
Alternative Press Expo (APE) 2010 This Weekend
By The Editor
October 14, 2010 - 01:59
Ape Entertainment

WHAT

: Alternative Press Expo (APE) 2010, the country's largest alternative and independent comics convention, presented by the organization behind San Diego Comic-Con.



WHEN

: Saturday, October 16 (11:00 a.m. to 7:00 p.m.) and Sunday, October 17 (11:00 a.m. to 6:00 p.m.).



WHERE

: The Concourse Exhibition Center (635 8th Street, San Francisco).

WHO: APE 2010′s noted special guests include: Lynda Barry (writer/artist, What It Is, Picture This: The Near-Sighted Monkey Book), Daniel Clowes (writer/artist, Ghost World, Wilson), Renée French (writer/artist, The Soap Lady, H Day), Megan Kelso (writer/artist, Artichoke Tales, The Squirrel Mother), Rich Koslowski (writer/artist, The 3 Geeks, BB Wolf and the Three LPs), Tommy Kovac (writer/artist, Stitch; writer, The Royal Historian of Oz), and Tony Millionaire (writer/artist, Maakies, Sock Monkey). Also included is programming on the history of the Bay Area comics scene and workshops for aspiring creators.



About Alternative Press Expo:



Alternative Press Expo (APE), the country's largest alternative and independent comics convention, is part of Comic-Con International (CCI), a nonprofit educational organization dedicated to creating awareness of, and appreciation for, comics and related popular art forms. The organization achieves its mission primarily through the presentation of conventions and events that celebrate the historic and ongoing contribution of comics to art and culture. In addition to APE each fall, CCI organizes San Diego Comic-Con each summer (the largest comics convention of its kind in the world) and the San Francisco–based WonderCon each spring.
© Copyright 2002-2019 by Toon Doctor Inc. - All rights Reserved. All other texts, images, characters and trademarks are copyright their respective owners. Use of material in this document (including reproduction, modification, distribution, electronic transmission or republication) without prior written permission is strictly prohibited.