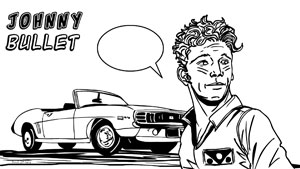 Comics News
"FAME: LADY GAGA" Bio comic book sells out in one day.
By The Editor
August 26, 2010 - 01:55
Bluewater Comics








Bluewater Productions biography comic book on pop diva Lady Gaga has sold out one day after its release. A third printing, with a new cover is already
in production.

³A lot of our biography comic books have sold out, despite many shops still


under-ordering. Readers have contacted us still trying to find our books,said BWP Managing Editor Darren G. Davis. It just goes to show that you don¹t have to be mainstream to reach the market. Readers just want great stories with great art, and if you can deliver that to them, they'll come back for more every month.Davis also said, Not only has the Lady Gaga issue sold out, but "Fame:Taylor Swift" & Fame: Kristen Stewart is selling briskly too. This is even after overprinting the book.The issue written by Dan Rafter and penciled by Kristoffer Smith, has received attention through its unique approach to the top-selling artist's biography Lady Gaga is a different sort of celebrity. So when writing a biography of her, I didn't want to resort to putting out a straight celebrity biography,"
said writer Dan Rafter. "Instead, I wanted to take a look at how Lady Gaga's
fame could impact even the most unlikeliest of individuals. So just as she
tries to be different, I too had to try something a little different with
Gaga." To those fans desiring a more traditional telling of Lady Gaga¹s biography,
a sequel of sorts is scheduled for November.

Fame offers a broad examination of strong and influential personalities who
are influencing culture. In a review of the Gaga comic, the New York Times
commented. "If you¹re going to start a line of biographical comic books
devoted to "culturally relevant celebrities and pop-culture icons," Lady
Gaga is probably a good choice to inaugurate the series."The third printing of Fame: Lady Gaga will be available in about three weeks. The FAME upcoming issues include Taylor Lautner and David Beckham. High-resolution images and interview opportunities are available upon request.
© Copyright 2002-2019 by Toon Doctor Inc. - All rights Reserved. All other texts, images, characters and trademarks are copyright their respective owners. Use of material in this document (including reproduction, modification, distribution, electronic transmission or republication) without prior written permission is strictly prohibited.