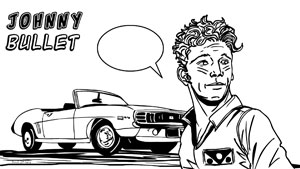 Comics News
Comic Promoter announces plans to market Sky Pirates of Valendor for national distribution.
By The Editor
July 28, 2010 - 10:07
SJS comic

Comic Promoter Susan Soares announced this week the detailed plans to market and promote the agency's first title to achieve national distribution. Sky Pirates of Valendor, a 148-page fantasy graphic novel published by Free Lunch Comics, is scheduled for national distribution through Diamond Distributors and will be solicited in the August issue of Previews Magazine.

To market the graphic novel to readers across the United States, SJS Comic Promotions has confirmed two initiatives that will increase exposure and generate additional sales. Members of the creative team will travel across several states for in-store appearances in prominent comic book retailers. Along with talking to customers about the graphic novel, attendees can also expect complimentary sketches, exclusive artwork and an opportunity to purchase Valendor Chronicles, an anthology of short stories that offers readers a dynamic glimpse at the fantastical world of Valendor, its numerous races and rich history.

The schedule of appearances is as follows:

• July 28, 2010 Friendly Neighborhood Comics, Bellingham, MA featuring Creator Everett Soares
• July 31, 2010 Harrison's Comics, Salem MA featuring Creator Everett Soares
• August 7, 2010 Casablanca Comics, Portland, ME featuring Creator Everett Soares
• August 8, 2010 Double Midnight, Manchester, NH featuring Creator Everett Soares
• August 14, 2010 Comic Monstore, Salisbury NC with Michael W. Kellar, contributing Inker
• August 21, 2010 New England Comics, Brockton MA featuring Creator Everett Soares
• August 22, 2010 Modern Myths, Northampton MA with Keith Murphey, contributing Inker and Art Director
• August 28, 2010 Jetpack Comics, Rochester NH featuring Creator Everett Soares
• More dates and locations to be announced

For the regions of the country out of reach, SJS Comic Promotions is actively recruiting fans to join the Valendor Dream Team. The goal of the Dream Team is to help us achieve our sales goal and spread the word about Sky Pirates of Valendor. Some of the ways Dream Team members can help include posting about Sky Pirates of Valendor on blogs, LiveJournal and Facebook pages; telling friends, family, co-workers, people on the street/train/bus about Sky Pirates of Valendor; sharing what they know and love about Sky Pirates of Valendor with their local comic book store and encouraging them to order it from Previews. In exchange for their efforts, participating fans will receive an exclusive Valendor Dream Team t-shirt, a gift bag of promotional items from Sky Pirates of Valendor, a subscription to the 2nd chapter of Sky Pirates of Valendor, set to release later this year and acknowledgement on the SkyPiratesOfValendor.com website, set to be redesigned in the coming months.

Comic book retailers interested in purchasing this exciting steampunk fantasy graphic novel can do so in the August issue of Previews Magazine. The order number for Sky Pirates of Valendor is AUG101028, appearing on Page 284 in the order catalog. Fans interested in joining the Valendor Dream Team can do so by sending an email to SJS Comic Promotions at susan.soares1971@gmail.com. Members of the media are invited and encouraged to contact SJS Comic Promotions to schedule interviews with members of the creative team. To learn more about Sky Pirates of Valendor, visit the title's website at http://www.skypiratesofvalendor.com or on Facebook.

SJS Comic Promotions is owned and operated by Promotions Consultant, Susan Soares. Opening its doors officially in 2009, Soares has been working in the comic book industry since 2007 as a part of Jolly Rogue Studios. The purpose of SJS Comic Promotions is to provide support and guidance to comic book creators in the areas of marketing and promotions of their properties. Currently SJS Comic Promotions represents Dandelion Studios, Fallenmage Productions, Big Bone Studios, Mustard Seed Comics, Dark Brain Comics, Jolly Rogue Studios and Three J Productions LLC. Soares is also a novice comic book writer with three short stories to be published within the next year.










© Copyright 2002-2019 by Toon Doctor Inc. - All rights Reserved. All other texts, images, characters and trademarks are copyright their respective owners. Use of material in this document (including reproduction, modification, distribution, electronic transmission or republication) without prior written permission is strictly prohibited.