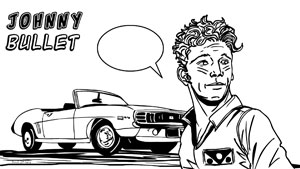 Movies
Americans Try to Influence Canadian Copyrights Policies, Again
By Hervé St-Louis
May 9, 2007 - 00:47
Following an earlier consultation with Canadian elected officials and other movie studios, Warner Bros decided to enforce a ban on all previewing of its films in Canada until Canadian legislation is changed to make it illegal for Canadian residents to record a film in a Canadian theatre.

According to Warner Bros' Senior Vice President, Worldwide Anti-Piracy Operations, Darcy Antonellis, "Canada is the number one priority in terms of anti-camcording legislation," Antonellis said. "Within the first week of a film's release, you can almost be certain that somewhere out there a Canadian copy will show up. Within the last 12 to 18 months we've seen a significant increase in terms of first-source proliferation that shows up on the Internet and subsequently shows up as hard goods elsewhere."



The Canadian Advantage



American entertainment companies have been trying to "encourage" the Canadian Government to modify Canadian copyrights' laws for years in hope of making Canada's copyrights laws similar to American ones. Some noteworthy differences between Canadian copyrights' laws and the United States,' include the right for Canadian to reproduce and copy music and videos for personal consumption, without any presumption that commercial gains are involved.

Another major difference is the limit on copyrights' protection in Canada to 50 years after the death of the original author. The United States, at the behest of entertainment companies and rich copyrights holders have repelled the limit of exclusive copyrights several times.

Canadians pay a levy on blank CD-Roms and DVDs which is sent to copyrights holders, even if the blank recordable devices were purchased for corporate needs or feature no music or film data belonging to third-party copyrights' holders. Strangely, the various copyrights' lobby groups, such as the Canadian Recording Industry Association, do not complain about this policy.



Good Canadian Governance



The existing Canadian law is a good mix of public interest, privacy and commercial concerns and should be the model adopted by all countries, as opposed the United States' restrictive model. Copyrights' holders promoting stronger protective measures, often forget to consider the benefits of these policies to consumers. If the consumer does not directly benefits either from such policies, stronger laws are not balanced and therefore not in the public interest.

The attack on camcorder copies of films is exaggerated. They are of poor qualities and viewed by a minority of potential consumers. Movie goers and music lovers are not pirates going out of their ways to steal copyrights holders. Although Canadian, and a frequent movie goer, I have never seen someone record a film in a Canadian theatre. Even with Warner Bros' appeal, this marginal activity will not become more popular.

As for the punishment Canadians will feel about not being able to preview an American film before their release date, only a few souls will be penalized. For all it's worth, Warner Bros' action is a ludicrous penalty and a desperate attempt to gather public sympathy for a lobby group that deserves contempt.
© Copyright 2002-2020 by Toon Doctor Inc. - All rights Reserved. All other texts, images, characters and trademarks are copyright their respective owners. Use of material in this document (including reproduction, modification, distribution, electronic transmission or republication) without prior written permission is strictly prohibited.