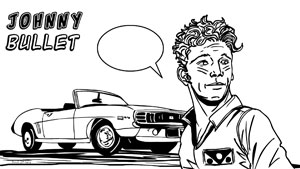 ToyBiz
Bullseye - Marvel Legends
By Hervé St-Louis
July 7, 2005 - 08:15

Bullseye is one of the Daredevil's main arch opponents. He is responsible for the death of two of Daredevil's lovers. Bullseye's has no powers, but his aim is exceptionally sharp. Any object in his hand becomes a lethal weapon. After having his bones crushed during a fight with Daredevil, the villain Lord Dark fused adamantium with Bullseye's bones. Bullseye first appeared in Daredevil #131, in March 1976. Colin Farell played him in the 2003 Daredevil movie.



Likeness



The figure is a mix of different Bullseye illustrations. In the past Bullseye's costume was skin tight. This figure follows the contemporary approach of making clothe less form fitting. The width of the stripes on Bullseye's chest, legs and arms vary. The figure has pockets on its waist and left leg. As these change often in the comics, it's not an important detraction. The variant version of Bullseye has an opened mouth and grey stripes instead of white ones.



Sculpt





Bullseye has a hunched back. The problem is that his head is too low on top of his neck. He looks like an old scrooge. Considering that he is a petty villain, it's not so bad. His body is slim. By default his ball joints articulations at the hips make his legs spread apart, lowering his height. The sculpt itself is nice as all types of gear is glued on his left thigh and his hips. The opened mouth variant makes Bullseye look mad.



Paint



The paint job is not great. By trying to make Bullseye's suit look dirty, the painters have created smudge. Smudge is not dirt. There are some highlights all over Bullseye's suit, but wasn't added when the assemblers finished assembling the figure. Hence, Bullseye's shoulder blades are pitch black, while the rest of his back is bluish. The face paint on Bullseye is great, as his eyes are reddish, as if he were tired. The variant Bullseye's collar is darker.




Scale



Although Bullseye's head is larger than the Daredevil from the Spider-Man Classic collection, the two figures look great next to one another. Of course, Bullseye fits well with the Marvel Legends' Elektra. Next to other Marvel Legends action figures, Bullseye's looks small. As mentioned above, it's because his legs are spread apart and his neck is not long enough. Nevertheless, it's cool to have a character stray away from perfect proportions.



Stability



Bullseye has severe stability problems. He can stand unaided by an action figure stand, but not for long. The paint on his ankles glues their articulations, making it difficult to adjust the figure's weight and balance. With an action figure stand, Bullseye will shine as his knees and ankles' articulations are solid and not loose. The best action figures stand I have found for Bullseye is the large oval type from DC Direct. They were also used for their modern JLA figures. Anchor Bullseye on two pegs, and he'll stay up.




Articulation



Bullseye has 36 articulations. He appears to have articulations at the shoulder blades, but they don't move. There are double articulations at the neck, the elbows, the knees. The shoulders, the head and the hips have ball joints. Other articulations are found at the biceps, the forearms, the palms/wrists, the abdominal, the waist, the calves, ankles, the toes and the fingers, which I counted as one articulation per hand.



Plastic



Bullseye's plastic is the hollow type that allows Toybiz easy assembly from spare parts from former action figures. It's solid and will weather rough play by children. However, when articulations are stuck with paint, don't press too hard on the figure to unlock them. They could break. If you can, instead of twisting the articulation in the direction it is supposed to rotate, bend it on the opposite direction and it will break the glue.



Props



Bullseye comes with no props and that's a shame. A couple of knives or playing cards would have been great with this figure. Nevertheless, Bullseye comes with the left foot of Galactus, which when assembled creates a huge 16 inch action figure. Bullseye comes with a copy of Daredevil #132 comic book featuring the second appearance of Bullseye.



Packaging



Toybiz uses a bubble pack for its figures. It can only be opened with a pair of scissors. I would recommend that only parents open this package as the plastic shreds from the package can hurt a child by puncturing his skin. Inside the package, the figure is held with several wires and a clear plastic mould. The artwork on the front cover of the card features instructions on how to assemble Galactus.




Cost



Marvel Legends action figures cost anywhere from $8 at great surface stores to $25 at small retailers. Depending on the quantity ordered and the weight of the reseller, collectors will obtain better deals or not. As it is rarer, finding that the variant Bullseye action figure retails for more is common. Auction sites resellers also sell this figure. Prices can vary greatly according to the place of purchase.



Availability



Usually, there are three Bullseye action figures per cases of Marvel Legends Series 9. In cases where there are variants, there are two regular Bullseye and one variant. This makes the Bullseye the most widely available of any Marvel Legends Series 9 action figures. A similar popular character, the Ultimate Captain America from series 8 was available in similar ratios, and continues to warm pegs in many stores. Expect the same for Bullseye.



© Copyright 2002-2019 by Toon Doctor Inc. - All rights Reserved. All other texts, images, characters and trademarks are copyright their respective owners. Use of material in this document (including reproduction, modification, distribution, electronic transmission or republication) without prior written permission is strictly prohibited.