We're at the mid-season mark for American television, so let's share some additional thoughts regarding some of DC's comic book based TV shows.

GOTHAM: Now in its second season, the series is building on past success by presenting interesting, engaging characters that lay the groundwork for the future. This season has been referred to as "Rise of the Villains," and with good reason. Penguin (Robin Lord Taylor in an Emmy-worthy performance) struggles to hold on to his criminal empire, while Ed Nygma suffers a psychotic break that will eventually lead him down a path of crime.

There were hints of a Joker-like character last season, in the form of Jerome Valeska (Cameron Monaghan). The series followed through on that earlier this season, as Jerome became a fully-realized Joker knockoff. Mercifully, it came to an abrupt and satisfying end. I believe the Jerome character was a poor copy of Jack Nicholson's 1989 performance.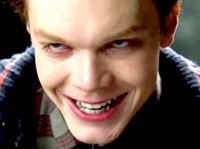 Future Joker? Thankfully not.

Additionally, part of the appeal of a show like Gotham is watching these familiar characters on their journey to who we know they will become. In this case, most of the characters that will populate the Batman lore should remain in their seminal form (for now, anyway).

Meanwhile, a new villain was introduced in the form of Theo Galavan (James Frain). Maybe it was the part as it was written – a villain pretending to be the city's saviour – but Frain's performance came off as flat and artificial.

Young Bruce Wayne (David Mazouz) has begun to evolve away from the angry and determined heir. I would prefer he be featured less, leaving his development into the Batman shrouded in mystery. But that would also probably mean less Alfred (Sean Pertwee), whose occasional bad-assery isn't enough to suit me.

As for the series' star, Detective Jim Gordon (Ben McKenzie), little has changed. He still struggles to fight the corrupt forces of Gotham City, while straddling the line between light and dark himself. We know his journey will take him to the commissioner's office, but what stops and/or detours he makes along the way remain to be seen.

SUPERGIRL: I don't watch Supergirl, which perhaps is odd given what a Superman fan I am. But perhaps it's because I've always seen her as a supporting character, much like Lois Lane or Jimmy Olsen. Without a Superman project to tie it to, I can't help but feel it's putting the cart before the horse.

Since DC chooses not to tie its TV projects to its big screen efforts, an agreeable solution might be to associate it with either Smallville or Lois & Clark. There may be some continuity concerns, but perhaps given the passage of time, those can be swept under the rug.

Nevertheless, I do hope the series comes into its own, and elevates Supergirl as a character and a property for DC, both on TV and in comics.
© Copyright 2002-2019 by Toon Doctor Inc. - All rights Reserved. All other texts, images, characters and trademarks are copyright their respective owners. Use of material in this document (including reproduction, modification, distribution, electronic transmission or republication) without prior written permission is strictly prohibited.