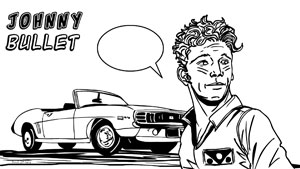 Blog
Happy New Year - More Site Tinkering!
By Hervé St-Louis
January 1, 2015 - 08:35
Hello and Happy New Year. I've been thinking about how to highlight the new Web comics published at ComicBookBin. I think I figured out how to do it. They are now featured in their own row at the bottom of the home page instead of being listed with all the other ComicBookBin articles. So now it's easy to find them even though they may have been published a few days earlier.

The Web comics part of ComicBookBin is a place that I really want us to grow in 2015. If you have a Web comic that you've been wanting to publish somewhere, give me a shout. We have a fourth series coming up very soon.

Publishing with ComicBookBin is easy and free. We create an account for you and you start posting your Web comics. We are looking for creators who update at least once a week though. There's nothing worse than an abandoned Web comic. Our fourth series is a short story, so we're flexible for such formats too.

Cheers!



© Copyright 2002-2019 by Toon Doctor Inc. - All rights Reserved. All other texts, images, characters and trademarks are copyright their respective owners. Use of material in this document (including reproduction, modification, distribution, electronic transmission or republication) without prior written permission is strictly prohibited.