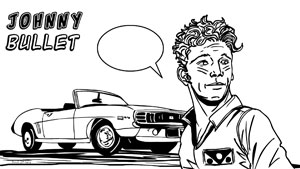 DC Comics
Aquaman #28
By Hervé St-Louis
Oct 6, 2017 - 17:39
Publisher(s): DC Comics
Writer(s): Dan Abnett
Artist(s): Stjepan Sejic
Colourist(s): Stjepan Sejic
Letterer(s): Steve Wands
Cover Artist(s): Stjepan Sejic; Joshua Middleton
$4.99, 21 pages

Aquaman and Dolphin narrowly escape Kadaver, Krush's henchman. But the pair is not the only one on the run. Vulko and his new ally Ondine are trying to reach ancient Atlantean artifacts protected by deceased Atlantean champions and proctors. Will they make it alive, or join their pursuers in death?

I will be repeating myself but this version of Aquaman is one of the best in years. Abnett really seem to enjoy the court politics and the fantasy elements around Atlantis. At the same time, he is very cognizant of continuity and uses Tempest and Mera very well in his story. The best part about this comic was Vulko and Ondine's stroll through the chambers protecting Atlantean artifacts. It was smart and very funny!

I was excited to read Brad Walker's early issues on Aquaman but got bored when he was frequently replaced with other artists, being unable to draw a biweekly comic continually. With Stjepan Sejic, we again have a strong and distinct artist on the series. What he brings is the whole epic dimension that could only be captured by an artist not afraid of fantasy elements. Hi, is a savoury Aquaman!


© Copyright 2002-2018 by Toon Doctor Inc. - All rights Reserved. All other texts, images, characters and trademarks are copyright their respective owners. Use of material in this document (including reproduction, modification, distribution, electronic transmission or republication) without prior written permission is strictly prohibited.