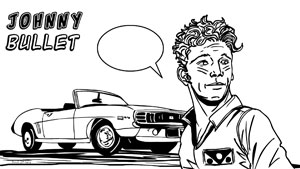 Comics News
Alias Comics Announces June Line-Up
By Jon Hook
April 6, 2006 - 10:37
Coming in June 2006, Alias Comics releases 18 new books, including returning favorites such as SIXGUN SAMURAI and CHRONO MECHANICS, alongside the wrap of one werewolf story, LETHAL INSTINCT, and the start of a whole new one - REVERE!

LETHAL INSTINCT #6 concludes a storyline that began with the series debut in April 2005, telling the story of a cop fighting his for control of his mind and body, to control the werewolf that lurks within. In the final issue of the storyline, readers will know the answers to many long-running questions and an ultimate meeting between the two werewolves, Wolf and Furious! Following this storyline, series creator/writer Romulo Soares is already plotting future adventures for LETHAL INSTINCT at Alias Comics.

�We are producing the new series for Lethal Instinct, the new story arc, titled �Starchild,� will have four editions. Bart Thompson is working with me in the script and with great art done by Rivaldo Gama, and we have something special for the fans � a crossover with 10th Muse,� said Soares. �Alias is great and easy to work with. They believe in the project, and I�m happy that Alias is the home for the Lethal Instinct series.�

But Soares isn�t the only one bringing wild werewolf wonderment to Alias Comics � creators Ed Lavallee and Grant Bond join Alias Comics in June for the release of their all-new series, REVERE!

In REVERE #1, Lavallee and Bond explore the secret life of the renowned Revolutionary-era patriot, Paul Revere, as a skilled silversmith and a deadly werewolf hunter.

�I was toying with the idea of creating a monster hunter-type character, but wanted a different setting, something that would challenge the character due to a lack of technology,� said writer/creator Ed Lavallee of the inspiration of REVERE.

Reviewers are already calling REVERE, �An impressive debut, well written, with an evocative art style.� (Reviewer, Alan Porter; RevolutionSF.com)

Here is a listing of all the titles shipping from Alias Comics in June 2006:

10TH MUSE #11
Written by Darren G. Davis, with artwork by Weshoyot Alvitre
A GOD WAR CROSSOVER: The battle for Olympus continues. They say that power corrupts and absolute power corrupts absolutely. The 10th Muse everything she has dreamed of. The power, the glory and the earth in the palm of her hand and it still isn't enough. She unleashes the Titans on an unassuming planet in an effort to destroy any trace that was Emma Sonnet, can she be stopped or is it too late? Heroes are born and forged. This is part 2 of the God War.
-- 24-pages, full-color monthly series -- $3.50
(order code: APR062853)

NOTE: SPECIAL INCENTIVE!!! For each 5 copies of 10th Muse #11, retailers receive a matching number of Image Comics 10th Muse TOWER RECORDS limited edition comic book!

THE BLACKBEARD LEGACY #2
Written by Darren G. Davis & Scott Davis, with artwork by Mike Slimbone, and special variant photo cover featuring Traci Bingham
Fifteen men on a Deadman's Chest ... except the men happen to be with the most blood thirsty female pirate on the Spanish Main. And the dead men ... well they happen to be zombies. Hanna the pirate continues her quest to find her notorious father Blackbeard and runs into a dead end.
-- 24-pages, full-color series -- $3.50
(order code: APR062855)

JUDO GIRL #3 (vol 2)
Written by Johnny Lowe, with artwork by Alex Julian
Silencer never misses ... so why did she let her newest victim live? Judo Girl uncovers the reasons why. And Lincoln (aka Hep Cat) has been drugging and manipulating Diana to further his own agenda. It�s all perfectly logical, according to Lincoln, but Judo Girl is NOT amused and not even Atlas can calm her down. It�s all here in the new Judo Girl #3!
-- 24-pages, full-color limited series -- $3.50
(order code: APR062857)

ORION THE HUNTER #4
Written by Scott Davis, with artwork by Alex Sunder
There's no place like Hell. Orion's quest finally leads him to the Stygian depths of Hades itself where the demons he faces are both real and within himself. Persephone, Hermes and the sons of Ares reveal their many faces in this final showdown as hard choices and shocking surprises tip the balance in the war for Olympus. This issue is the exciting conclusion of this epic four-part series.
-- 24-pages, full-color limited series -- $3.50
(order code: APR062856)

CHRONO MECHANICS BRONZE: PRECIOUS METALS COLLECTION #4
Written by Art Thibert, Richard Birdsall & Pamela Thibert, with artwork by Art Thibert, and Chris Chua
This issue has it ALL -- explosions, raging battles, technivorous Chronomites, and a plot to change every time line in existence! When Doug and a malfunctioning piece of machinery push Zyn to the very edge of insanity, it is up to Corky's (the team's resident Chronomite) appetite to save the day. Meanwhile, a spurned genius has Oot and Caravaggio in a desperate fight for their lives. Never have the odds been so stacked against these hard-workin' Joes. With time running out and no backup to be seen, Team 9.2 must find a way to bring down a madman before reality as we know it is gone forever!
-- 23-pages, full-color monthly series -- $3.50
(order code: APR062861)

SUPER TEEN TOPIA #2
Written by Kirk Kushin, with artwork by Gonzalo Martinez
Everyone knows that top tier super-heroes, like the X-Men, relax after saving the galaxy by playing softball, but what do other groups do? Join the cast of Super Teen*Topia as they go miniature golfing! In this issue Kevin arranges a first date with his internet girlfriend at the local miniature golf course. But when trouble rears it�s head, will they be up to the task of saving the day? Plus, Paige makes a surprising revelation that will bring her one step closer to meeting Kevin face-to-face! If you�re ready for a comic in the vein of The Greatest American Hero, now is the time to get in on comicdom�s best teenage super-soap! Free preview available at superteentopia.com.
-- 24-pages, full-color bi-monthly series -- $3.50
(order code: APR062860)

REVERE #1
Written by Ed Lavallee, with artwork by Grant Bond, and edited by Jon Hook
Through cannon fire, and musket smoke, America's war for independence was hard fought by The Sons of Liberty. But beneath it all, shrouded in secrecy, another battle was being fought, a battle against the creatures of the night. Two beacons blaze to life in the steeple of the Old North Church spurring silversmith and freedom fighter, Paul Revere, into action. History tells us the signal was to warn of British troops on the move, but in reality the warning had a more sinister message ... WEREWOLVES! Revere tracks a werewolf to a secluded cabin, where he is sure he has cornered the beast, but all is not as it appears. Revere soon finds himself torn between upholding his oath to protect the colonies, and sparing a young boys life! Join us on the road to revolution in this first, all-action, pulse pounding issue!
-- 28-pages, full-color limited series -- $3.50
(order code: APR062862)

LETHAL INSTINCT #6
Written by R�mulo Soares, Wagner Baehr & Ernst Dabel, with artwork by Alex Borges
Joe and Frank receive an anonymous call with instructions about where Dan can be found, while Steve begins an investigation of his own. Furius (Josh) has waited long enough, and finally confronts the other Werewolf (Frank) and the battle begins ... Will there be a winner to this bloody battle? Or will both find their untimely end ... Don�t miss the incredible finally to the first miniseries of Lethal Instinct!
-- 24-pages, full-color limited series -- $3.50
(order code: APR062863)

LULLABY #4 (vol 2)
Written by Ben Avery, with artwork by Hector Sevilla, and edited by Mike S. Miller
Alice (from Wonderland), the pirate Jim Hawkins, the famed Piper, Red Riding Hood, Pinocchio, Cheshire Cat and the French swords-woman Milady must join forces against the fairy realm's greatest evil ... but will their combined might be enough to vanquish his power? Meanwhile, the secrets behind Milady's swords, Makoma's bag, and the third little pig are all revealed!
-- 24-pages, full-color monthly series -- $3.50
(order code: APR062865)

MIKE S. MILLER�S: IMAGINARIES: LOST AND FOUND (trade paperback)
Written by Mike S. Miller and Ben Avery, with artwork by Mike S. Miller and Greg Titus
What happens to those imaginary friends, childhood superheroes, playmates and stuffed animals we all gave life to as children when we grow up and don't need them any more? They go to the IMAGINED NATION. Join SUPERHERO G as he explores this strange new world, full of the imaginings of billions of children around the world. Follow him as he meets strange and wonderful characters, the kind only a child could believe in, and discovers a new purpose for his existence unbound by the imaginings of his creator, and free to become more than even he has ever imagined before.
-- 96-pages, full-color trade paperback -- $9.99
(order code: APR062868)

LULLABY: WISDOM SEEKER (trade paperback)
Written by Mike S. Miller and Ben Avery, with artwork by Hector Sevilla
LULLABY: WISDOM SEEKER is an all-ages romp through the fantasy worlds of children's fiction. This wonderful story focuses on the beloved characters of childhood yore ... Join JIM HAWKINS, ALICE (From Wonderland), PINOCCHIO, LITTLE RED RIDING HOOD, and the PIED PIPER as they join forces to stop a dark magic that has been warping this wonderful world into it's own image, and discover who is behind the unleashing of this darkness ... You'll never guess who the bad guy turns out to be in this fun filled adventure!
-- 96-pages, full-color trade paperback -- $9.99
(order code: APR062866)

ED�S TERRESTRIALS (graphic novel)
Written by Scott Christian Sava, with artwork by Diego Jourdan
Aliens have escaped from the Intergalactic Food Court and found their way to Earth. They crash land into Ed�s tree house, and are soon friends. Now they are trying to help the rest of their alien friends escape to earth and follow their dreams. The only thing standing in their way, Ed�s classmate and nemesis Natalie, and her new friend, Mall security from another planet ... Maximus Obliterus.
-- 80-pages, full-color, hardcover graphic novel -- $19.99
(order code: APR062869)

SIXGUN SAMURAI #6
Written by Mike S. Miller, with artwork by Harold Edge
The saga of the SIXGUN SAMURAI comes to a close as the teenager fights to avenge the death of his mentor at the hands of his master's age-old arch- enemy, the evil samurai exile Matsumura. But as the boy is faced with the chance to extract vengeance or offer mercy, he faces a tough decision that will forever shape the way he lives his life ... and how the father he has never known will view him.
-- 32-pages, full-color monthly series -- $3.50
(order code: APR062870)

VICTORIA'S SECRET SERVICE #2
Written by Terrance Griep, with artwork by Nadir Balan
Scarlet (Victoria Secret Service's newest member) takes on her first mission--to guard Great Britain's least-favorite royal, the prodigal Prince Garson, from a terrorist attack. Disguised as a cocktail waitress, the team must secretly prevent the flirty, teenaged prince from being kidnapped during a masquerade. The camouflaged international terrorists at work the girls can handle--it's teaming up that's a problem! Brooke, Lark, and Raven distrust their newest member--not because she's a cat burglar working a plea bargain, but because she's an American! Brought to you by writer Terrance Griep and artist Nadir Balan, the creative team of Alias's sellout smash, Judo Girl!
-- 24-pages, full-color monthly series -- $2.99
(order code: APR062859)

MIKE S. MILLER'S: DEAL WITH THE DEVIL (trade paperback)
Written by: Mike S. Miller, with artwork by Sherwin Schwartzrock
The complete story of the critically acclaimed crime noir thriller is here at last! Anthony Goodwin is a man who once had it all; family, faith, the respect and adoration of his peers, and the reputation as the best manhunter in FBI history. In his last case, his prey became his hunter, and his career was ended in shame and worthlessness. Four years later, his nemesis returns to ask for ... his help. Find out what drives a man to help the one person in the world he would most like to kill with his bear hands ... Take this thrilling journey through the darkness of a man's soul as he makes ... a deal with the devil. Added features: 6 page never before seen prologue! New pages! Unpublished artwork! And an interview with series creators, Mike S. Miller and Sherwin Schwartzrock!
-- 136-pages, full-color trade paperback --$14.99
(order code: APR062872)

VALKYRIES #2
Written by Kevin Grevioux, with artwork by Leonel Castellani, colors by Javier Tartaglia, and edited by Vincent S. Moore
From Actor/Screenwriter and Co-Creator/star of UNDERWORLD, KEVIN GREVIOUX! The story continues as Keldegarde learns exactly what it means to be a Valkyrie. Also, what is the trickster Loki up to? Find out in the second thrilling installment of Valkyries!
-- 32-pages, full-color series -- $3.50
(order code: APR062873)

THE LEGEND OF ISIS #10
Written by Chad Rebmann, with artwork by Rove
A GOD WAR CROSSOVER: "God War" continues this month at Blue Water-Alias with an Egyptian Goddess in the Greek Pantheon! Isis and Venus infiltrate Mt. Olympus to liberate Zeus and Hera from the Muse's prison. But why has the Muse turned against her father, and can Isis save her before it's too late?
-- 24-pages, full-color monthly series -- $3.50
(order code: APR062858)

YENNY #6
Written by David Alvarez, with artwork by David Alvarez, Richard Cruz, and Rangely Garcia, and colors by Ivy Beth Gladstone
Don't mess with cupid because he has strange magical powers. Strange like making you get FAT! Yeah ... THAT weird.
-- 24-pages, black & white/full-color series -- $3.50
(order code: APR062871)
With this much fun on the stands each month, the only question left to ask is: What�s YOUR Alias?

© Copyright 2002-2019 by Toon Doctor Inc. - All rights Reserved. All other texts, images, characters and trademarks are copyright their respective owners. Use of material in this document (including reproduction, modification, distribution, electronic transmission or republication) without prior written permission is strictly prohibited.