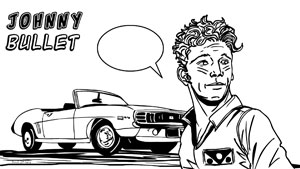 Comics News
Zenescope Teams With History's Vikings!
By Andy Frisk
July 3, 2013 - 12:49
Publisher(s): Zenescope

Zenescope Entertainment and The History Channel are getting together once again to make comic book history with their exclusive Comic-Con International special free

Vikings

comic book giveaway at The History Channel's

Vikings

panel this year.

As reported by Hero Complex at the LA Times, the popular historical drama

Vikings

at The History Channel was "was the second-most-watched cable program in the second quarter, with a viewership of 5.2 million per episode, according to Nielsen." Given the show's popularity, bringing the show to the comic book world is a no brainer. Here's hoping that this

Vikings

, Zenescope, and History Channel fan sees Zenescope's

Vikings

get a larger lease on life, i.e. a regular ongoing series. I'd be a loyal follower!

© Copyright 2002-2019 by Toon Doctor Inc. - All rights Reserved. All other texts, images, characters and trademarks are copyright their respective owners. Use of material in this document (including reproduction, modification, distribution, electronic transmission or republication) without prior written permission is strictly prohibited.