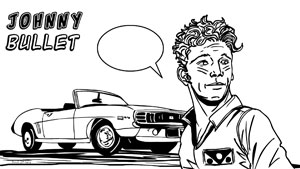 Books
Yoe Books! Kool Kids Komics
By Beth Davies-Stofka
September 17, 2010 - 19:00
Publisher(s): IDW Publishing
Writer(s): Craig Yoe and Mo Willems
ISBN: 978-1600105203
304 pages, $34.99

Few experiences could surpass sitting down with some kids to read

The

Golden Collection of Klassic Krazy Kool Kids Komics

, an eye-popping treasury of classic comics from IDW and Yoe Books! Yoe's

Golden Collection

presents nearly 300 over-sized pages of weird and colorful comics, mainly from the 1940s and 1950s.

Parents and other serious readers will enjoy seeing how the giants of comics history stretched their abilities in the sandbox of kiddie comics. Kirby and Ditko are here, as are Wolverton, Kurtzman, and Frazetta, and many other seminal talents in American comics.

Kids of every age will love these comics, for their action, their color, their humor, their total lack of political correctness, and their unrestrained excursions into the world of the imagination.



I don't know if you could find comics like these now. Somehow these treasures escaped censorship in the Cold War surveillance society in which they were made. They are free-spirited and decidedly

un

-self-conscious, which makes them seem insane by today's standards. One thing's for sure: they are insanely good.

How about Dave Berg's trip to Bugville with Lewis Carroll's Alice, where an angry council meeting transforms into Ye Olde Faerie Tale and back again? Or John Stanley's tale of Peterkin Pottle, a little Walter Mitty-type stuffed shirt who dreams of being the conquering caveman? Disney animator Ken Hultgren draws a hilarious story of a life-and-death battle between a fox and a bird. And Dan Gordon offers

Mussel-Man

, a spoof that pointedly exploit a key logical fallacy in the Superman legend.



Those examples barely scratch the surface of the cornucopia of memorable stories in this volume. And while the stories are alternately charming, funny, and weird (sometimes all at once), providing countless hours of reading pleasure, what really matters here is the art. The art feels fresh and new, colorful and dynamic, and completely original. No two comics are alike in this great behemoth collection.

Every artist on display has their own unique sense of lettering, panel construction and color. Every artist has their own way of turning a person or animal into a funny and eccentric character. Every one of them finds their own sense of humor, and every one of them has their own way of nudging a kid in the ribs and sharing a joke. You get the idea they all knew that kids are the smartest readers and the toughest critics. You get the idea they were thrilled to draw entertainments for their peers, i.e. those who had not yet reached adolescence.



The exceptional research skills of writer, editor, and designer Craig Yoe are on full display here. These comics are carefully rescued from the hidden vaults of collectors and beautifully reproduced in a highly affordable and highly readable volume. And they are carefully selected and arranged so that the marvelous attributes of each selection are on optimal display, by virtue of its near neighbors in the book. The introduction is exceptional, one of Yoe's best essays on comics history to date.

The preface by Mo Willems sums it all up so well that every review like this one is rendered moot.

No one ever suspects the kiddie comic

. That's right. When these artists got down to business, nobody was looking. I'd say get a copy ASAP, and really learn from the talents of your heroes. Because in here, they got away with everything!

Be sure to check in next Friday for the next Yoeday review. We've got a big surprise for you!


© Copyright 2002-2019 by Toon Doctor Inc. - All rights Reserved. All other texts, images, characters and trademarks are copyright their respective owners. Use of material in this document (including reproduction, modification, distribution, electronic transmission or republication) without prior written permission is strictly prohibited.