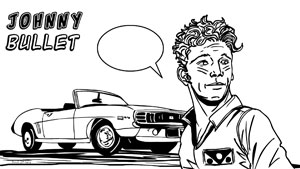 Knowledge and Scholarship
Who's Who - Yik-Hai Chan
By Hervé St-Louis
August 2, 2012 - 22:25
Yik-Hai Chan was a British reviewer of action figures who had a short but very productive stint at ComicBookBin. He was introduced by Kevin Scott and quickly reviewed several of his favourite DCDirect action figures and a few other toy line only to quickly disappear. In about a month and a half, f Yik-Hai Chan reviewed 10 action figure toy lines and took their photography too. He started in early June 2006 and ended his visit in July 2006.

Who's Who @ComicBookBin is a feature celebrating the 10th anniversary of ComicBookBin where publisher Hervé St-Louis features writers past and present that have contributed to ComicBookBin over the years.
© Copyright 2002-2021 by Toon Doctor Inc. - All rights Reserved. All other texts, images, characters and trademarks are copyright their respective owners. Use of material in this document (including reproduction, modification, distribution, electronic transmission or republication) without prior written permission is strictly prohibited.