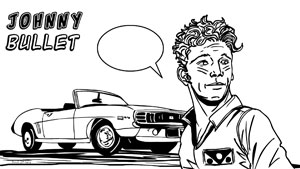 DC Comics
Wonder Woman #28
By Hervé St-Louis
Oct 25, 2017 - 7:24
Publisher(s): DC Comics
Writer(s): Shea Fontana
Artist(s): David Messina
Colourist(s): Romulo Fajardo Jr.
Letterer(s): Saida Temofonte
Cover Artist(s): Jesus Merino, Alex Sinclair; Jenny Frison
$2.99


A bounty has been put for Wonder Woman's body and a super fast and super strong hemophiliac villain decides to take a stab at the heroine. Can Wonder Woman withstand Mayfly?



This issue is kinetic with beautiful art from David Messina that reminds me of Yanick Paquette's Wonder Woman. There are a few problems with the colouring of Etta Candy, making her look like a white woman in several panels. I will also add that Etta Candy is drawn like a man and has nothing feminine about her.

Storywise, the narrative is equally kinetic but very simple with lots of exposition undercut with the action sequence that introduce Mayfly which is an interesting villain who strangely enough is a proto-cheetah!
© Copyright 2002-2018 by Toon Doctor Inc. - All rights Reserved. All other texts, images, characters and trademarks are copyright their respective owners. Use of material in this document (including reproduction, modification, distribution, electronic transmission or republication) without prior written permission is strictly prohibited.