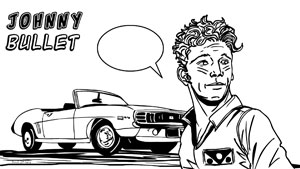 Comics To Film News
Why Daredevil Is Not on Blu-Ray?
By Hervé St-Louis
April 19, 2015 - 10:29
I've been having a strange 'shut up and take my money' moment with the new

Daredevil

series on Netflix by Marvel. As of this time, it is exclusive to Netflix without any date announced for the eventual Blu-ray release. I do not want to open a Netflix account. I am a dinosaur who likes to buy his entertainment on disc and not be tethered to the whims of Internet service providers (ISPs) trying to throttle data packets to break net neutrality. I also am not a fan of paying for a service when I can buy a product with which I can do what I want to once it is in my hands.

Daredevil has always been my favourite Marvel Comics character. I really wanted to love the 2003

Daredevil

movie. I just could not. To think that Warner is trusting Ben Affleck with Batman is horrendous. He destroyed Daredevil for a decade. Back to the topic at hand. Marvel's Daredevil is delivered the way it should have been. Fox did not renew its Daredevil license so Marvel reclaimed it. I bet Fox is regretting it right now!

I have had to watch the first few episodes of Daredevil with a friend who does have a Netflix account. It is a hassle. I like the series a lot. I want to personally support it. But I cannot. Marvel prevents me from shouting 'shut up and take my money'. Marvel does not want my money. I like extra contents such as behind the scenes. I want someone to explain to me the planning it took to shoot the last shot from episode two. It was crazy. Daredevil is the best thing ever put out by Marvel. And I say this having watched but a few episodes. But it is too cumbersome to find my buddy and watch it with him. I'd rather plug in a disc in my Blu-ray player at home, sit back and relax.

But I bet that Marvel and Netflix realized that if they announced a Blu-ray edition, that it would cannibalize their streaming sales. I'm not sure. Netflix has a free one-month deal right now in Canada. I could just register for that and quit next month. I don't know if they would allow it. I just want to watch Daredevil. I don't want to change my media consumption to streaming video for long projects like this. I don't want to be on a subscription plan. I want to buy my media and be left alone. I don't want my ISP to influence how I consume my media. I don't want Marvel and Netflix to know exactly how many times I watch Daredevil so that they can tailor my profile and sell my residual data to advertisers.

I'm a dinosaur, but I am a prescient dinosaur. Buying your movies and books physically gives you freedom and leverage from companies that want to transform you into their products. I don't want to be tied to a platform. I'm just saying. Now shut up and take my money!

© Copyright 2002-2019 by Toon Doctor Inc. - All rights Reserved. All other texts, images, characters and trademarks are copyright their respective owners. Use of material in this document (including reproduction, modification, distribution, electronic transmission or republication) without prior written permission is strictly prohibited.