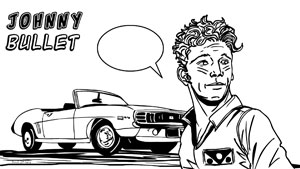 DC Comics
Welcome to Tranquility #8
By Zak Edwards
July 8, 2007 - 16:37
Publisher(s): DC Comics
Writer(s): Gail Simone
Penciller(s): Jason Pearson, Chriscross, Georges Jeanty, and Neil Googe
Cover Artist(s): Neil Googe



The latest issue of Gail Simone's delightfully original series consists of three short stories, all based in the past. We get two origin tales and then a childhood story for sheriff Tommy. While none of these serve to forward the current plot directly, the two origin tales give the feeling of being important for the upcoming events for the town of Tranquility. I'll divide this review into a paragraph for each story to keep things organized.

The first story is the childhood story of a rougher, more whiny sheriff Tommy. The first page in I found myself asking, "How does this horrible little hellion end up being sheriff?" This story just plain annoyed me. It was filled to the brim with stereotypes and teen angst that left me glad I'm no longer in those magical years of 12-15. The actions of Tommy and her sister are in no way consistent with who they are now, and if it wasn't for their names being mentioned, I would have thought I was being introduced to two new characters. The art was youthful and energetic, which suited the story very well. I always enjoy seeing characters in the hands of another artist, so long as they're capable, and Pearson was very capable. Where I felt the other stories served some purpose, this one seemed like poorly conceived filler.

The second story deals with Ezekial, the crazy grave digger of Tranquility. The whole thing is an almost direct copy of Ghost Rider's origins, complete with motorcycle accident. Throw in a rant about how evil and shallow the entertainment industry is and you have this whole story in the bag. The story does feel significant, as the devil seems to play a key role in the upcoming arc, but that's about it. Simone was doing a very unique way of showing some of the characters pasts through her corny comics stuck in the middle of the issues for the first arc, I don't see why she stopped and through these in as we went along. The art is okay for this story. Chriscross can't seem to draw eyes as they almost all appear as big blobs on peoples faces, the rest feels like a copy of Neil Googe's art, except a little lower quality all over.

The final story is the only one I actually enjoyed. Emoticon's origin was kind of interesting to watch. The story explains a lot of why he is the way he is, and gives us a glimpse of what his grandfather was like. While some of the former villains seem to be staying on the straight and narrow in Tranquility, the Typist is not one of them. I enjoyed Emoticon's transformation. The art was good as well, although nothing really jumped out at me for this story.

Overall, this issue was a big disappointment for me. I've come to expect more from this series and its characters. With very little usage of the amazing cast Simone has created, the issue suffers severely.

5/10 But stick around for when things get back on track.
© Copyright 2002-2020 by Toon Doctor Inc. - All rights Reserved. All other texts, images, characters and trademarks are copyright their respective owners. Use of material in this document (including reproduction, modification, distribution, electronic transmission or republication) without prior written permission is strictly prohibited.