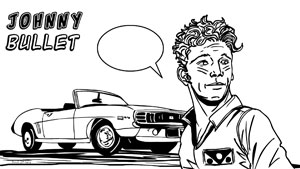 DCDirect
Watchmen Action Figures – Controversies and Fulfilment
By Hervé St-Louis
August 18, 2008 - 06:34
In anticipation of the 2009 Watchmen film adaptation by Warner Brothers Studios, DC Direct, the merchandising arm of comic book publisher DC Comics, has announced a series of action figures and statuettes matching the look of the film to be released between January and March 2008, just before the release of the movie. However, this is not the first time that DC Direct has tried to release Watchmen merchandise. What has changed that has made this specific release possible this time?



At the 2000 San Diego Comic-Con, DC Direct announced that they would release action figures of Dr. Manhattan, Silk Spectre, and the Comedian to coincide with the 15th anniversary of the Watchmen comic book series published in 1986-7. Although prototypes were shown at the convention, soon after DC Direct announced that they were cancelling the Watchmen action figures. Alan Moore, the writer of Watchmen had expressed disapproval of the action figures and other promotional efforts related to the anniversary of the comic book series.



In previous years, Moore had a disagreement with DC Comics over the payment of what the publisher called promotional items. Moore argued that the buttons were not promotional items and that royalties should be paid for them. It is possible that this episode and the stated intent of Moore to refuse any work or direct relationship with DC Comics, soured the DC Direct action figures release of 2001. DC Comics does own the Watchmen completely, but it seems that Moore's approval was still needed to make derivative products.



Often creators who have sold their properties to other parties retain moral rights to oversee and approve how derivative products are generated from their work. Moral rights are not economic rights that afford creators any income, but they have an unlimited veto over how their work is used, even if they do not own it.



The strategy used for the Watchmen action figures announced recently is different and may have offered DC Direct an opportunity to bypass Alan Moore's approval. The vendor clearly markets the action figures as Watchmen Movie Action Figures. Moore does not want to be associated at all with the film or claim any royalties due and thus would have no artistic moral copyrights over any merchandise related to the Watchmen film.



Although collectors were disappointed when DC Direct cancelled the first Watchmen action figures, the ones from the film will more than make up for the initial loss. Because the characters, designs have been improved for realism, the action figures look more dynamic and much better than the original ones shown in 2000. In the end, waiting eight more years paid off for action figures collectors who wanted Watchmen toys!

© Copyright 2002-2019 by Toon Doctor Inc. - All rights Reserved. All other texts, images, characters and trademarks are copyright their respective owners. Use of material in this document (including reproduction, modification, distribution, electronic transmission or republication) without prior written permission is strictly prohibited.