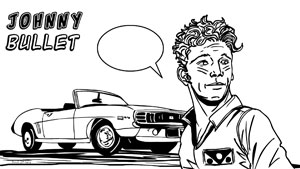 Comics To Film News
Spider-Man Trailer
By Patrick Oliver
Jul 20, 2011 - 13:30
Studios: Marvel Entertainment
Writer(s): Stan Lee, Steve Ditko, James Vanderbilt, Alvin Sargent
Starring: Andrew Garfield, Emma Stone, Rhys Ifans, Martin Sheen, Denis Leary, Chris Zylka, Irrfan Khan, Annie Parisse, Campbell Scott, Julianne Nicholson, Stan Lee
Directed by: Marc Webb
Produced by: Avi Arad, Todd Black, Grant Curtis, Laura Ziskin, Matt Tolmach
Release Date: 3rd July 2012
Distributors: Columbia Pictures
Genre: Superhero Movies



Nicholas Hammond, eat your heart out. It's July, we have our first trailer for

The Amazing Spider-Man

and I've got to admit that it's pretty cool. And that just over three quarters of the way through the teaser trailer, it-gets-even-cooler. So without further ado, waffle, prevarication, filling, or fanfare (see what I did there? Heh) here's the trailer:



© Copyright 2002-2018 by Toon Doctor Inc. - All rights Reserved. All other texts, images, characters and trademarks are copyright their respective owners. Use of material in this document (including reproduction, modification, distribution, electronic transmission or republication) without prior written permission is strictly prohibited.