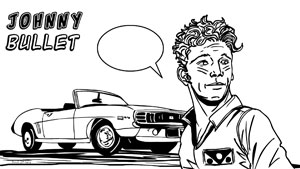 Progressive Panels
Walter Simonson Draws Thor (Again!)
By Andy Frisk
May 9, 2012 - 19:43
When I was a kid, one of my most prized possessions was a well-thumbed and ragtag copy of

The Mighty Thor

#349. Published on June 1st, 1984, four months and 10 days before my 10th birthday, it was one of the scores of comics that my Dad bought for me from the local drug store. Yes, you could once get comics at drug stores and newsstands…ah, the good ole' days. The story in

The Mighty Thor

#349 didn't make much sense to me at the time. It was just another chapter in the book's currently running story that was about to break a little more loose in the next issue which promised "Next: Ragnarok and Roll!" I wouldn't read the next issue for another twenty years though, since Dad didn't buy me the next issue. He probably bought me

G.I. Joe: A Real American Hero

instead, at my request. I didn't stop dreaming about what the conclusion to the story in

The Mighty Thor

#349 would be though. Something about this issue that has stayed with me over the years, even more than questions about the possible resolutions to the story, and just what "Ragnarok and Roll" meant, was Walter Simonson's highly kinetic and highly imaginary artwork, and the memories of that formative time in my life that they would always jog in me.

The image of Thor spinning his hammer with his friends cowering behind him as they returned from an inter-dimensional journey and arrived back in his NYC apartment would be one of two defining images of Marvel Comics' Thor that would stick with me for a lifetime. The other would be the preview ad that appeared in several issues of Marvel Comics' other books and promoted Walter Simonson's run on

The Mighty Thor

. It was one of Thor in the aftermath of what could only have been, in my mind, his most epic battle. Thor's costume and cape were tattered and torn. He held his winged helmet in his left hand. His hair was mightily disheveled. A pile of enemies, both human and monstrous, lay vanquished at his feet. It was only one image, but it told such a story to a 9 year old boy. Simonson's powerful style conveyed so much through one image that it filled my head with just as many story possibilities and imagined adventures as the unfinished plot threads from

The Mighty Thor

#349 did.



For this memory and life-long defining image of Thor as a character, Walter Simonson will always be one of my favorite sequential artists. There are many more literarily important reasons why he should be one of my favorites of all time. Many of them are much more important to the overall history of Marvel Comics, Thor, and sequential art itself, but it's the memories of my Dad that these images jog in me that are the most important reasons. The energy in Simonson's work, and his image of Thor as a tough, hardworking hero somehow also defined my image of my Dad from those days. As a steelworker, he was a physically big guy, but he was also pretty active with my brothers and I in those days as well. He'd often be really tired from work, but he just as often had the energy to wrestle around or throw a football with us in the backyard. My Dad and Thor were both pretty tough guys…

…even after a hard fought battle. Times got tough and the comics were bought less often as the steel industry picked up and moved overseas due to the de-regulation of the Regan years. Dad fought many battles against poverty for us and often appeared as haggard to me as Thor seemed to be after his battle in the promo art mentioned (and shown) above. Like Thor though, Dad eventually won many battles and maintained a safe and secure home for his wife and kids. To many young boys, our Dads are our first superheroes (as I've blabbed before), and the images of our favorite superheroes from our young and formative days often get mixed up with the images of our Dads, that is for those of us lucky enough to have "Dads" instead of just "fathers."

Walter Simonson's art will always be precious to me, especially when he draws Thor, because of the incredible amount of emotional energy and memory that I have invested in his images of Thor. This is one of the great powers of sequential art, its heroes, and the artists that draw them. Their hopeful images and stories of hard fought victory against the world's evils, especially when drawn by someone as talented and unique an artist as Simonson, are precious to us culturally and developmentally. This is part of the reason that

Marvel's The Avengers

is doing so well at the box office and touching so many. The memories that often get locked up with, and the life lessons that we intuitively learn from, the reading of their stories are part of the great myth of the hero's journey, which is synonymous with growing up.



Imagine my joy when I heard that Simonson was going to be drawing some issues of

The Avengers

(2010). His image of Thor swooping down onto the roof of Avengers Tower in NYC, his might hammer Mjolnir spinning in his hand, almost brought a tear to my eye. Not because I love The Avengers' stories, or the character of Thor, but because it reminded me of times gone by, a simpler time in my life, and the original superhero that saw us through those both light and dark times.



Like music? So does Andy. Read his thoughts on it

here

.





© Copyright 2002-2019 by Toon Doctor Inc. - All rights Reserved. All other texts, images, characters and trademarks are copyright their respective owners. Use of material in this document (including reproduction, modification, distribution, electronic transmission or republication) without prior written permission is strictly prohibited.