Marc Spector, The Moon Knight, along with all of his split personalities, is back in New York and determined to take a bite out of crime and the Big Apple while he's at it. This time though, The Moon Knight isn't maiming, mutilating, or killing anyone. Spector, being hunted heavily by Norman Osborne, faked his death and hid out in Mexico for a time. Spector is a hero at heart though, despite his checkered past, and is determined to pursue a career as a superhero. This time he's going to do his best to be just that. This "new" Moon Knight remains the unifying persona behind Spector's many different lives, but The Moon Knight is the agent of Khonshu, the Egyptian god of the moon, and of vengeance. Khonshu, who continues to appear to Spector, as a vision birthed from Spector's still distracted mind, urges Spector to break free of his new code of behavior and return to the role of vengeful killer. Spector is determined to resist though, and begin anew.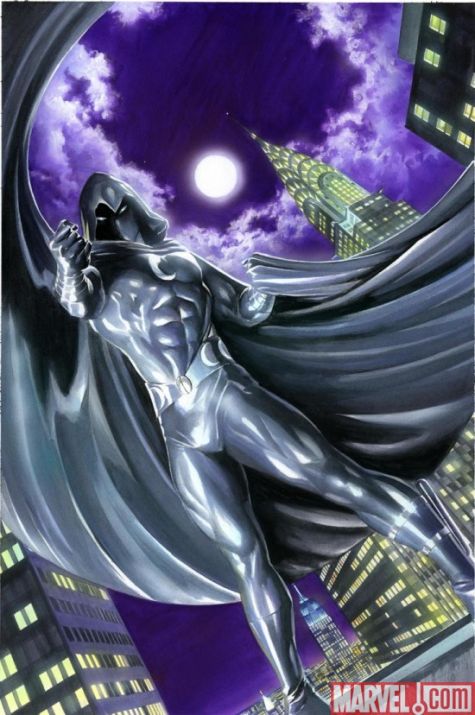 Out of the many convoluted histories, origins, and back stories of many of Marvel Comics' heroes, The Moon Knight's is one of the most confusing to the new reader. This is a shame because The Moon Knight, while often considered a knockoff of The Batman, is actually an interesting and unique character. Many of Marvel Comics' less popular characters, including Spider-Woman, are interesting, and they have the potential to be really great in the hands of a good writer. What The Moon Knight really needs is a bit of a clean break so new readers can jump on and not be too terribly burdened by The Moon Knight's past. Vengeance of The Moon Knight's writer, Gregg Hurwitz, looks to be attempting to provide his readers with just that.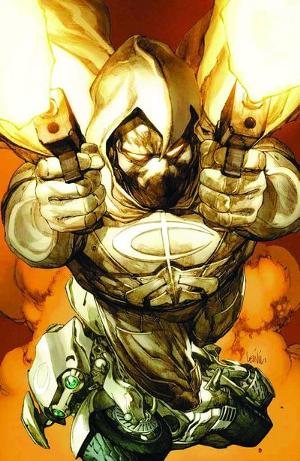 Jerome Opena's pencils give Vengeance of The Moon Knight the highly realistic detail that makes The Moon Knight look just a real as The Batman did in The Dark Knight. The Moon Knight's costume is well drawn and detailed as is his motor bike. His recreation of New York City's Times Square is also spot on. When Dan Brown adds his coloring touches, Vengeance of The Moon Knight comes together as an artistically well produced book.
This first issue also contains a reprint of Moon Knight #1 from 1980. The story, titled "The Macabre Moon Knight," by Doug Moench and artist Bill Sienkiewicz, tells the origin of The Moon Knight, Marc Spector's many alter egos, and his battle with his arch-nemesis, The Bushman. It's an interesting reprint of an old tale that will help new readers understand some of the history behind the character.
Overall, Vengeance of The Moon Knight, yet another Marvel Comics' hero title launch, or re-launch, is right up there with Spider-Woman and Wolverine Weapon X, when it comes to solid starts. Hopefully, Hurwitz and Opena will make this title one worth returning to each month.

© Copyright 2002-2019 by Toon Doctor Inc. - All rights Reserved. All other texts, images, characters and trademarks are copyright their respective owners. Use of material in this document (including reproduction, modification, distribution, electronic transmission or republication) without prior written permission is strictly prohibited.