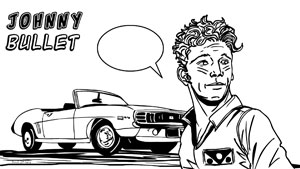 Press Releases
Top Shelf Products The League of Extraordinary Gentlemen: Century trilogy
By The Editor
Apr 5, 2012 - 9:13
Publisher(s): Top Shelf Productions
Knockabout Comics
Writer(s): Alan Moore
Penciller(s): Kevin O'Neill
ISBN: 978-1-60309-007-0
$9.95 US, 80-page softcove
Release Date: June 2012
Rating: M

"A stunning return to form."
"Marvelously layered."
"Among the finest works in Moore's oevre... Fast-paced, visually dense and wildly imaginative."

These are just a few of the rave reviews Alan Moore and Kevin O'Neill have received since bringing The League of Extraordinary Gentlemen "Century" trilogy to Top Shelf & Knockabout. It's also been Diamond Comics' #1 bestselling graphic novel in America, with each new book -- even hitting the New York Times Bestseller list!

In this third and final chapter, our narrative draws to its cataclysmic close in London 2009. The magical child whose ominous coming has been foretold for the past hundred years has now been born and has grown up to claim his dreadful heritage. His promised aeon of unending terror can commence, the world can now be ended starting with North London, and there is no League, extraordinary or otherwise, that now stands in his way. The bitter, intractable war of attrition in Q'umar crawls bloodily to its fifth year, away in Kashmir a Sikh terrorist with a now-nuclear-armed submarine wages a holy war against Islam that might push the whole world into atomic holocaust, and in a London mental institution there's a patient who insists that she has all the answers.

It's a spectacular finish that must be seen to be believed.

Pre-order your copy now in the current April DIAMOND PREVIEWS!

THE LEAGUE OF EXTRAORDINARY GENTLEMEN (VOL III): CENTURY (#3 of 3) "2009"

-- ISBN 978-1-60309-007-0
-- Diamond DM code: APR12-1232

ALSO AVAILABLE:

• THE LEAGUE OF EXTRAORDINARY GENTLEMEN (VOL III): CENTURY (#1 of 3) "1910"
• THE LEAGUE OF EXTRAORDINARY GENTLEMEN (VOL III): CENTURY (#2 of 3) "1969"
© Copyright 2002-2018 by Toon Doctor Inc. - All rights Reserved. All other texts, images, characters and trademarks are copyright their respective owners. Use of material in this document (including reproduction, modification, distribution, electronic transmission or republication) without prior written permission is strictly prohibited.