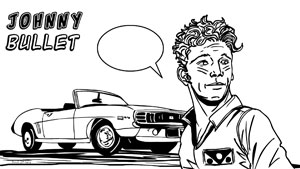 Spotlight
Top Shelf Month Round Up
By Hervé St-Louis
Mar 8, 2008 - 9:37
Top Shelf Month was our first theme month of 2008. We reviewed many books and had a few side articles related to the publisher. Here's a round up of all these articles we published. There is also a list of previous Top Shelf books The Comic Book Bin has reviewed prior Top Shelf Month. If you're looking to further your knowledge on Top Shelf, you can't go wrong with this list.

Reviews

Top Shelf on Parade
That Salty Air by Tim Sievert


Korgi Book 1 - Top Shelf


Three Fingers


Doublecross More or Less


Top Shelf Asks the Big Questions


Broken Fender #1 - Top Shelf


Dear Julia


Pistolwhip: The Yellow Menace


Troglodytes


The Legend of Wild Man Fischer - Top Shelf


Top Shelf: Under the Big Top


Vampires Unlimited: Wolves #1


Bug House


The Octopi and the Ocean


Banks / Eubanks: New Hat Stories


Fox Bunny Funny


Broken Fender #2


Big Clay Pot


Happy


Boy in my Pocket


Mephisto and the Empty Box


Happy Elephant, Bunny and Chicken


Conversation # 1


Cicada

from Top Shelf


Box Office Poison


Pinky & Stinky


Hey Mister: After School Special


Creature Tech


Dang! brand comics and stories


Hutch Owens: Unmarketable

from Top Shelf


Essex County Vol. 2: Ghost Stories



Spotlight





Top Shelf Reviews Round up


2007 @ The Comic Book Bin



Interviews





Interview With Chris Staros of Top Shelf Comix

Let us know if this list was useful to you.

© Copyright 2002-2018 by Toon Doctor Inc. - All rights Reserved. All other texts, images, characters and trademarks are copyright their respective owners. Use of material in this document (including reproduction, modification, distribution, electronic transmission or republication) without prior written permission is strictly prohibited.