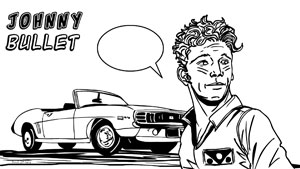 Comics To Film News
Hergé's Adventures of TinTin!
By Patrick Oliver
Nov 5, 2008 - 14:30



B

elgian artist Hergé's (Georges Prosper Remi) popular work is to be turned into a trilogy of films. The first of which is to be filmed by none other than Steven Spielberg, with Peter Jackson filming the second. The third does not yet have a director attached to the project.

The 'Tintin' adventures, charting the experiences of a young reporter along with his dog and a cast of friends, the series originally started out as a comic strip in a Belgian newspaper, and has been collected into over 20 volumes. Published in a host of languages and having sold in excess of 150 million copies of the books, they are probably the most popular European comic books of the 20th century.
'Tintin' has also been adapted for stage and screen and was also an animated television series (I remember it well!).

Inhabiting a fully realised world, the adventures range from science fiction to detective thrillers to political intrigue to swash buckling escapades. Something for

everyone

!

The first of the trilogy is to be released in 3-D motion-capture in 2010.
© Copyright 2002-2018 by Toon Doctor Inc. - All rights Reserved. All other texts, images, characters and trademarks are copyright their respective owners. Use of material in this document (including reproduction, modification, distribution, electronic transmission or republication) without prior written permission is strictly prohibited.