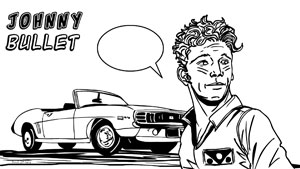 More Comics
The Walking Dead #124 Review
By Andy Frisk
March 30, 2014 - 19:42
Publisher(s): Image Comics
Writer(s): Robert Kirkman
Penciller(s): Charlie Adlard
Inker(s): Stephano Gaudiano
Colourist(s): Dave Stewart (covers)
Letterer(s): Rus Wooton

The all out war between Rick and his group and Negan and his Saviors continues. There's plenty of blood and gore to go around and things aren't looking too good for Rick, Carl, and the gang. While they manage to stave off Negan's near final assault, albeit just barely, all hope appears lost. Negan's crew's weapons are all tainted with zombie blood, and therefore, "...anyone who was injured by one of their weapons...no matter how minor the would...will...die." and as readers of

The Walking Dead

already know, Rick has sustained a little more than a minor wound...from one of Negan's crew's weapons.

So, is this finally the end of Rick Grimes' run in comic book version of

The Walking Dead

? Maybe so. Maybe not. Who really knows?

The Walking Dead

is quickly turning into the

Game of Thrones

of the comic book genre. Characters get killed off regularly. Most of the time it's characters that are popular. Nihilism rules the day, and the narrative has no real end in sight. Writer Robert Kirkman himself has stated that he doesn't really care about how or what or why the zombie plague started in the first place. What was once compelling storytelling that really lived up to the series' adage "fight the dead, fear the living" has degenerated into torture porn, a seriously festering morbidity, and an open ended narrative structure that is proving to not be worth the reading time investment. Yeah, there are still some pretty compelling characters left alive, but honestly when Rick goes, so will many of the series' readers. Kirkman has also stated that he has story plans laid out up to issue #200. Unfortunately, I don't think this reader will make it past issue #125.

What else can be said of Charlie Adlard's artwork at this point? It's solid, interesting, and detailed. It's also graphic and gory, just as a post-apocalyptic zombie gore fest of a comic book should be. It's also incredibly repetitive. Honestly though, how many different ways can psychopaths and zombies be rendered over the course of 117 issues? You have got to give Adlard the praise he's due though. He managed to keep most of the visuals interesting, at least for a while.

So is is time for

The Walking Dead

the comic book to begin to wind down and get ready to roll off into the zombie splattered sunset? Probably. It's still a major cash cow for Image Comics though, so I don't think the series will wind down anytime soon, with or without Rick Grimes.

© Copyright 2002-2019 by Toon Doctor Inc. - All rights Reserved. All other texts, images, characters and trademarks are copyright their respective owners. Use of material in this document (including reproduction, modification, distribution, electronic transmission or republication) without prior written permission is strictly prohibited.