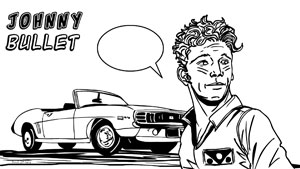 DC Comics
Review: The Green Lantern #1
By Philip Schweier
December 18, 2018 - 15:23
Publisher(s): DC Comics
Writer(s): Grant Morrison
Artist(s): Liam Sharp
Colourist(s): Steve Oliff
Letterer(s): Tom Orzechowski
Cover Artist(s): Liam Sharp, Steve Oliff; Jessica Chen

So Hal Jordan has the ability to overcome fear, but not self-pity, apparently. When we meet him in this first issue of the new GL series, he is lying in the desert looking up at the stars, until such time as a nameless woman (NOT Carol Ferris, by the look of her) arrives, they go inside, fix dinner and engage in intimacy. When next we see Hal, he is hiking along the highway, Jack Reacher style.

At the end of Green Lanterns, Hal was placed on indefinite suspension by the Guardians. It lasted as long as the interlude between the final issue and this one, which is to say almost no time at all. He is, as Hal himself says, back in the saddle, tasked with a special mission on behalf of the Corps.

The villains of this issue appear to be controllers. Really? Didn't the GLs just fight them in the final issues of Hal Jordan and the Green Lantern Corps? I feel like very little has changed, and nothing warrants the recent title/numbering change. Why convey a whole new entry into the GL franchise if we're still going to focus on Hal and the Corp?

One thing I've noticed with the Green Lantern franchise the past year or two is how much of it is space-based. Hal and the rest of the Corps serve as intergalactic cops, but almost never (in recent memory) has he or the others played super-hero on Earth. I kind of miss that. Cosmic adventures are all fun and ambitious, but once in a while I enjoy a simpler tale, as a palette cleanser. But event fatigue is a common problem from DC the past decade or so. Everything has to be BIG.

© Copyright 2002-2020 by Toon Doctor Inc. - All rights Reserved. All other texts, images, characters and trademarks are copyright their respective owners. Use of material in this document (including reproduction, modification, distribution, electronic transmission or republication) without prior written permission is strictly prohibited.