Be ready to see justice delivered by The Fall in this comic book containing no less than five short stories featuring PLB Comics' costumed vigilante. Hunting down feminist serial killers, helping nuns set a trap for a rapist and watching over citizens who wish to take matters in their own hands is just an example of what you will find inside The Fall: Vengeance and Justice #1.

Unlike most comic books with many contributors the quality of the stories is pretty equal throughout this first issue. Brothers Mathew and Josh Shockley pen four of the five stories while Nathan Thomas Milliner complete the writing duty thus giving a constancy both to the mood and the tone given to this comic book. However I would not call these stories deep or complex. They are rather an attempt to show how justice can be (brutally) served when a vigilante decide to deliver it himself. The best way to sum how I felt about it would be entertained but knowing that it won't have a the lasting effect on me.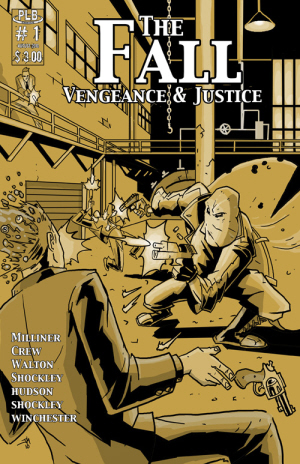 If like I said above the plots are pretty consistent the same cannot be said about the art. With five different artists assuming the task of drawing the five short stories we are treated with different styles that range from the professional looking to the more amateurish attempt. My favorite was probably Nathan Thomas Milliner's and it's a shame he did not draw one of Shockley's story because I believe the result could have been interesting. The best combination of art/story is probably the Shockley and Hudson collaboration on " Trippin' ".
If you are a fan of vigilante superhero like the Punisher or if you are looking for an entertaining and professional indy comic book you should appreciate The Fall: Vengeance and Justice #1. It can be bought directly for the publisher's website
© Copyright 2002-2018 by Toon Doctor Inc. - All rights Reserved. All other texts, images, characters and trademarks are copyright their respective owners. Use of material in this document (including reproduction, modification, distribution, electronic transmission or republication) without prior written permission is strictly prohibited.