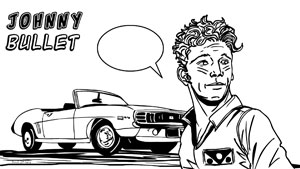 Comics News
The #Binquirer: Apr. 21 Edition
By Zak Edwards
April 21, 2014 - 23:04
Hello and welcome to the latest edition of the #Binquirer, where we give you the news roundup you want about your favourite TV, Movies, and of course Comic Books. Every Monday, Wednesday, and Friday, we'll provide you with the biggest news in easily digestible chunks. Want to know more? Just click on the links provided!



Tips? Want more? Be sure to follow us on Twitter

@ZakEdwardsLive

and

@ComicBookBin



Film


DC Comics has released another clip from the upcoming Son of Batman movie. The film adapts the Batman & Son story arc by Grant Morrison and will be released on May 6. Watch it below:





New footage of

Godzilla

has appeared in a new TV spot, including a better look at the monster himself. More on Yourtube.

Rogue fans can relax, Anna Paquin will be in

Days of Future Past

. The original X-Man, at least in the films, was rumoured to be left on the editing floor. More at Buzzfeed.

The first 3 minutes of Joss Whedon-penned film

In Your Eyes

has been released. The supernatural romantic film stars Zoe Kazan and Michael Stahl-David and debuts at the Tribeca Film Festival this weekend. More at Entertainment Weekly.



The Amazing Spider-Man 2

has topped numerous overseas box office lists already, taking in $47 million before it even debuts in North America. More at IGN.

Quentin Tarantino staged a reading of his leaked

Hateful Eight

script over the weekend, with Samuel Jackson among others reading. The script was supposed to be Tarantino's next film, but he has decided to not film it after it was leaked a few months ago. More at Deadline.



Comics




DC: The New Frontier

creator Darwyn Cooke has released an animated

Batman Beyond

short. It also cameos some of Batman's other incarnations, fitting with the 75th anniversary of the character. More at Nexopia.



Earth 2

is the next franchise to get a weekly series from DC Comics. The alternate earth series will feature its monthly series writer Tom Taylor among others. More at Comics Nexus.

Robin appears to be returning, although which Robin remains unclear.

Batman and Robin

writer Peter Tomasi is penning a

Robin Rises: Omega

one-shot. The issue will be followed by his

Batman &

<Guest Name> series reverting back to

Batman & Robin

with #33. More at Newsarama.

Warren Ellis has signed on to revamp Rob Liefeld's

Supreme

series. Ellis and artist Tula Lotay will start the series in July with

Supreme: Blue Rose #1

. More at Comicosity.

The

X-Files

will be going back to their roots starting in July.

X-Files: Year Zero

will look at the origins of the X-Files unit, which was started in the late 40s. More at IDW.

IDW has announced their first exclusive contract in Gabriel Rodriguez. The Locke & Key artist is set to illustrate a

Little Nemo

comic later this year. More at the LA Times.

Valiant Comics has announced their first cancellation and a new series.

Harbinger

will end with issue #25 but be relaunched as

Harbinger: Omegas

with the same writer, Josh Dysart. More at CBR.



Television


The Hugo Awards nominations have been announced.

Saga

,

Pacific Rim

,

Orphan Black

, and

Doctor Who

were all nominated in various categories. More at io9.



Game of Thrones

has hit a new record for piracy. Last week's "The Lion and the Rose" has reported over 193,000 shares of the same torrent file. More at the AV Club.

First footage of the upcoming

Star Wars: Rebels

television series has debuted. Watch it below:




Fans of politics and western music are in for a treat: Michelle Obama will be guest starring on

Nashville

on May 7. More at TV Line.

© Copyright 2002-2019 by Toon Doctor Inc. - All rights Reserved. All other texts, images, characters and trademarks are copyright their respective owners. Use of material in this document (including reproduction, modification, distribution, electronic transmission or republication) without prior written permission is strictly prohibited.