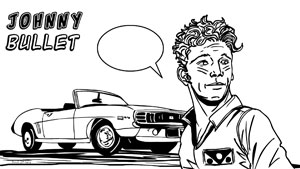 Progressive Panels
The Avengers (2010) Vol.1
By Andy Frisk
April 22, 2012 - 17:07
After Marvel Comics' long running, and connected, storylines

Civil War

,

Secret Invasion

, and

Dark Reign

came to a close, a new

Heroic Age

dawned. Steve Rogers was back amongst the living (although he hadn't retaken the mantle of Captain America yet), as was Thor, and both were getting along well with Tony Stark/Iron Man. (If you don't know why this is a big deal then you really should go back and read the above mentioned storylines. They are well worth the time invested.) Things were looking up for our heroes and the major political commentary and dark outlook on the future of civil liberties and rights, that was such a hotbed of themes for Marvel Comics' major heroes over the past several years, seemed to be a thing of the past. After all, a new president who championed hope and change was in the White House and the war in Iraq was winding down. The time was right for the reunited Avengers to take on some more lighthearted sci-fi threats like Kang the Conqueror instead of an allegorically and politically laden mad and fascistic Norman Osborne. Things weren't all roses though, and still aren't. The Great Recession came along and the war in Afghanistan still rages (not to mention that we are always "inches away from war" with North Korea). What kind of legacy are we leaving for our children through our responses to world threats (pre-emptive war) and how would they respond to the threats of tomorrow (nuclear bomb wielding N. Korea and Iran)? These are the kinds of questions that The Avengers would have to face in Brian Michael Bendis' first arc of his re-launched

The Avengers

title. After years of battling each other, threats from outside, and terrorists, The Avengers would be forced into action in order to save the world from the destructive tendencies of their own children, or would they?

First off, Bendis is one of the greatest writers to ever take the helm of Marvel Comics' foremost heroes, and even though I was a little worried that the new

The Avengers

title would be a little too lighthearted and that all of the powerful allegorical and metaphorical punch that so many of Marvel Comics' comics had carried for years now would dissipate. I was very happily wrong. The threats were from the likes of Kang the Conqueror instead of Osborne, as mentioned, but the themes of great power and great responsibility, the consequences of ones actions and their repercussions on future generations, and the gray areas that exist in the decision making processes that those in power must navigate through would remain central to Bendis' storytelling. When Kang the Conqueror shows up to warn the current Avengers that their children were going to destroy all of reality, it appears that the Avengers' descendants would abuse and wield their powers recklessly without regard for the innocents around them, and they would resort to capital punishment on a whims notice. Apparently following the example of the worst mistakes that The Avengers had made. Appropriately, Kang gets the team's attention by wielding a Dark Matter Accelerator (a doomsday device invented by Tony Stark, but not built yet, just "written down"), another apparent legacy of the current heroes' recent activities (like fighting each other and dealing with the careless misuse of their powers-both two more themes of

Civil War

,

Secret Invasion

, and

Dark Reign

).



As readers of Bendis' first arc of

The Avengers

(2010) know, things didn't turn out exactly as they seemed, and the real danger came from the current Avengers' lack of faith in their own ability, heroism, and self-consciousness. If they are being the heroes that they are expected to be, and that the world expects them to be, then they should have been secure in their example and their children's actions, which turn out to be more than justified. The Avengers weathered the Osborne storm and their own little Civil War amongst themselves that divided them along ideological lines, but they needed to face their own worst fears, themselves and their legacy.

Bendis brilliantly sets up future story arcs in the final pages of this first arc, leaving the jury out on the potential legacy of The Avengers, and Tony Stark/Iron Man himself. There will be wars to fight in the near future which will end up having massive consequences on the future survival of the Earth and The Avengers themselves. Will Tony's penchant for creating Doomsday weapons save or doom them all in the long run? We will have to wait and see, but for right now The Avengers have saved the day and Bendis has kept up the intelligent and relevant storytelling legions of his fans have grown to love and would hate to live without. Just like The Avengers though, each and every one of us needs to constantly take stock in the examples that we are leaving for future generations. We unfortunately, do not have genius of those like Tony Stark to help us suss out the future that we leaving our children to, be it good or bad.


© Copyright 2002-2019 by Toon Doctor Inc. - All rights Reserved. All other texts, images, characters and trademarks are copyright their respective owners. Use of material in this document (including reproduction, modification, distribution, electronic transmission or republication) without prior written permission is strictly prohibited.