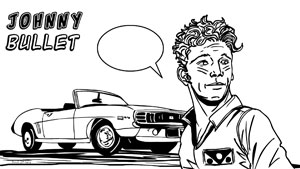 DC Comics
Sweet Tooth #36 Review
By Zak Edwards
August 3, 2012 - 18:59
Publisher(s): DC Comics
Vertigo Comics
Writer(s): Jeff Lemire
Penciller(s): Jeff Lemire
Colourist(s): Jeff Lemire, Jose Villarrubia
Letterer(s): Carlos M. Mangual
Cover Artist(s): Jeff Lemire
$2.99 US

I find it funny, I was in conversation with my brother and a good friend of his a couple of nights ago about comic art and Michael Turner came into the conversation. I for one have never been a fan of Turner's art, I think it's derivative of Jim Lee and the type that keeps man-children buying sex objects and potential new readers just offended enough to write off the entire medium. My brother and his friend vehemently disagreed and pointed to the composition, the clean line work, etc. (all fair points) while I pointed to the massive breasts, the arms the size of torsos, and better artists like Jeff Lemire. To me, Lemire's art style, that looks less like the sort of stereotypical comic art of artists like Turner, Lee, David Finch, etc. and more like something different, is the way to the future in the medium. Not to mention it looks amazing and communicates extremely effectively. With Sweet Tooth wrapping up, it saddens me that Lemire doesn't have any projects that he's drawing in the foreseeable future, but at least he's still writing.

And Lemire continues to be such an effective and affective writer, only getting better as the series continues. He has used this space to experiment in many ways, not always paying off I would argue, but in ways that show an artist wrestling with his creation in ways that make both stronger. The issue opens with a dream sequence, something quite important to the series but lessening in frequency, and Lemire's art truly shines. Regular colourist hands the reigns over to Lemire himself and the results are powerful and psychedelic without cliche. The plot itself is more bringing other characters up to speed, worrisome considering how little time the series has left, but the audience also gets even better glimpses into Dr. Singh's strange ideas (and how right he may have been along the way). As for Gus, his dream sequence shows, despite his fairly expected response to the multiple abandonments he's endured, that he is a kid encountering a crazy amount of trauma. Lemire's sympathy with this character both sums up events and shows Gus is worse off than he lets on, which is important to note. It reminds me of the scene many issues ago where Gus encountered his future self, who looked more like Jepperd than Gus, and it was easy to see how this world would shape him. Overall, it's nice to see the gang back together, in the worst use of that term, and even nicer to see Lemire go out the way he wants while keeping the stakes high, not in immediate danger, but in the world he's created.

As the series progresses, it seems Lemire's style has become looser and rougher, more likely related to his increased workload than anything else, but the rush works anyways. Besides, the opening dream sequence, where he takes on the coloring duties as well, proves he's not letting Sweet Tooth simply die because he has more lucrative projects on the go. Time and care goes into each issue, and his use of double page spreads and still general experimentation shows Lemire is still using Sweet Tooth as a creative outlet as his other work becomes more editorialized. Sweet Tooth has been a struggle for Lemire at times, but I think it's also a wonderful place to watch one of comics' most talented people grow into a writer and artist who can bring people to the medium and raise its quality.

Grade: 8.5/10 Continuing to raise the bar, time and time again.
© Copyright 2002-2021 by Toon Doctor Inc. - All rights Reserved. All other texts, images, characters and trademarks are copyright their respective owners. Use of material in this document (including reproduction, modification, distribution, electronic transmission or republication) without prior written permission is strictly prohibited.