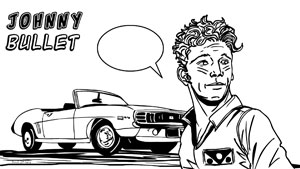 DC Comics
Sweet Tooth #35 Review
By Zak Edwards
July 11, 2012 - 00:09
Publisher(s): DC Comics
Vertigo Comics
Writer(s): Jeff Lemire
Penciller(s): Jeff Lemire
Colourist(s): Jose Villarrubia
Letterer(s): Carlos M. Mangual
Cover Artist(s): Jeff Lemire
$2.99 US

It was a sad day a couple of months ago, but one I also was very happy about. Jeff Lemire announced that he is, in fact, ending Sweet Tooth at issue forty, pretty much on the button of his original estimate of issue lengths. While this does draw into question Vertigo's viability by letting another great series go and the increased use of Image as a source of creator-owned material, we at least know Lemire is going out on his own terms.

Sweet Tooth

kind of remains an enigma even this late in the game, story arcs come and go and everything has started to meld together, not so much into a cohesive structure, but in a consistent mood and style sort of way. But now, as the last story arc gets underway, things are certainly coming to a head.



Sweet Tooth #35

starts with a familiar Lemire scene (yes, I've read enough Jeff Lemire to justify saying this): a man in a repeated schedule of a happy mundanity that comes to a fairly graphic and horrific end. This ties into mad scientist Singh's desire to find the truth about Gus the antlered protagonist, who is tracking the man who cleans the floors of the scientific compound that is ground zero of the plague that has ravaged the world. Lemire continues to tell his story through art over words, the repeated images of Gus' 'father' living a strangely normal life create sympathy and depth for a character who has been fairly one-dimensional up until this point. And considering Singh's journal entries make the bulk of this issue's words, Gus' father is given this depth solely through image and fairly objective musings. Singh has little connection emotionally to his subject, but this is entirely different for the other narrator, who is quite invested in Gus' father. His journey is tragic and much more than the possible lunatic ravings of a Bible thumper that Singh believes the father is, and Lemire's destabilizing of Singh's excuse for his actions is also interesting. The stage has been set and though I fear Gus himself, who is quite absent along with his protector, may have his journey ended before we see him fully develop out of his naivety, I trust Lemire to leave off with what he still does best: qiet and powerfully emotive stories, much like the one here.

Verdict: Vertigo's best current book is preparing for a powerful finale.
© Copyright 2002-2021 by Toon Doctor Inc. - All rights Reserved. All other texts, images, characters and trademarks are copyright their respective owners. Use of material in this document (including reproduction, modification, distribution, electronic transmission or republication) without prior written permission is strictly prohibited.