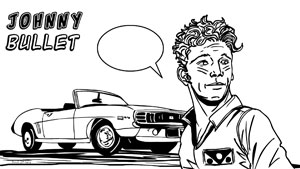 DC Comics
Sweet Tooth #14
By Andy Frisk
October 6, 2010 - 18:50
Publisher(s): DC Comics
Vertigo
Writer(s): Jeff Lemire
Penciller(s): Jeff Lemire
Inker(s): Jeff Lemire
Colourist(s): Jose Villarrubia
Letterer(s): Pat Brosseau
$2.99 US

Gus has been a captive in The Militia's camp since Jepperd dropped him off there several issues ago. He's been poked and prodded, but not dissected…yet. Things finally start to go his way when his and the other hybrid animal/human kids' caretaker, Johnny, helps them escape. Meanwhile, Jepperd, the man who traded Gus for the remains of his wife so he could give her a proper burial, has had a change of heart and entices an insane gathering of post-apocalyptic religious nuts to "gather the tribes" and launch an assault on The Militia in order to capture the captive hybrids for their own unclear purposes. The plan is to let The Militia and The Tribes kill each other off while Jepperd saves Gus…but with Gus already outside the camp, what will come of Jepperd's plan?

Jeff Lemire's odd, mysterious, and great post-apocalyptic tale of a world ravaged by an unstoppable virus that left few alive and seemingly gave rise to a new species of man/animal hybrid children continues to build to a climax. The only problem is that it keeps building, and building, and building…Lemire has given us scant few clues to the nature of the hybrids' and Gus' origin thus far. The few clues he has dropped are very interesting and tantalizing, such as Gus' apparent lack of a navel which calls into question his biological origins, but overall the series seems to be dragging and not filling us in on what exactly is going on in this world. Perhaps Lemire's point is that it honestly doesn't matter how Jepperd, Gus, and the world got to this point, but what they are going to do now that they're all here, and that's a noble idea. The average reader might need more answers though to stay interested. The concept and execution of the story of this strange world has overall been effective, but unfortunately the pace that the story is unfolding at might turn some readers off from collecting the monthly issues and encourage them to wait for the trades. I really hope this doesn't happen as DC Comics' Vertigo line is dropping titles like flies currently. Sweet Tooth is just as good and interesting a read as were Madame Xanadu, Unknown Soldier, and Greek Street (yes, I'll continue to bewail the demise of these series until I feel like stopping—which may be quite a while), but hopefully Sweet Tooth will not share these series' fate.

Either way, Lemire's Sweet Tooth is a good and intriguing read. Don't wait for the trades. Pick this series up monthly. It's worth the effort. This series needs to escape the type of quickly thrown together ending that leaves the series' fans disappointed…endings of the type we're witnessing right now in several other Vertigo titles.

© Copyright 2002-2021 by Toon Doctor Inc. - All rights Reserved. All other texts, images, characters and trademarks are copyright their respective owners. Use of material in this document (including reproduction, modification, distribution, electronic transmission or republication) without prior written permission is strictly prohibited.