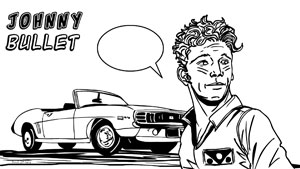 Press Releases
Support the Wounded Warrior Project at the Baltimore Comic-Con
By Andy Frisk
September 2, 2013 - 21:15
Support the Wounded Warrior Project at the Baltimore Comic-Con



Wounded Warrior Project BALTIMORE, MARYLAND - September 2, 2013 - From September 7th & 8th at the Baltimore Comic-Con, award-winning graphic novelist and illustrator, Robert James Luedke, will be raising awareness for the Wounded Warrior Project, selling originally designed prints whose proceeds will benefit the veteran's charity.

The WWP's purpose is to raise awareness and enlist the public's aid for the needs of injured service members; to help injured service members aid and assist each other; and to provide unique, direct programs and services to meet the needs of injured service members. "This is a wonderful cause that supports those who have put it all on the line for their country, but now are finding it difficult to heal and reintegrate into society, even with the help of our government," said Luedke. Through the efforts of his Facebook group, Artists Supporting the Wounded Warrior Project, Luedke has raised over $24k for the WWP since May of 2012 through silent auctions, live auctions, and prints sales at comic conventions around the country!

Luedke, also known as "Bob the Artist," has been involved in the comic and graphic novel industry since 1995. From 2004 through 2010, his Eye Witness graphic novel series captured 5 different indie book awards and was a finalist for 5 others.

Luedke will be offering 6 different prints at his tables (A29-30) during the convention, where 100% of the proceeds will benefit the WWP! For more information about the work of the Wounded Warrior Project, visit:
www.woundedwarriorproject.org.

The latest developments about the Baltimore Comic-Con can always be found on our website, Twitter, and Facebook pages.
© Copyright 2002-2019 by Toon Doctor Inc. - All rights Reserved. All other texts, images, characters and trademarks are copyright their respective owners. Use of material in this document (including reproduction, modification, distribution, electronic transmission or republication) without prior written permission is strictly prohibited.