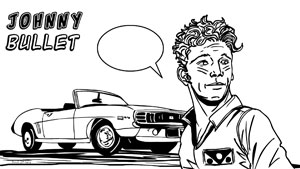 Progressive Panels
Superman: Earth One
By Andy Frisk
November 10, 2010 - 23:42
Publisher(s): DC Comics
Writer(s): J Michael Straczynski
Penciller(s): Shane Davis
Inker(s): Sandra Hope
Colourist(s): Barbara Ciardo
Letterer(s): Rob Leigh
$19.99 US

Clark Kent, like most young men his age, is trying to find his place in the world. Like anyone, Clark has talents that are uniquely his. Unlike anyone, Clark's talents are very, very unique. He can do almost anything, work in any field, go anywhere, and be anyone. His parents though instilled in him the ethic that (even though it's not stated-and is a phrased coined for another superhero) "with great power comes great responsibility," but Clark only wants to do what any loving son wants to do for his widowed mother: take care of her for the rest of her life financially. Clark's mom tells him that she already has everything she needs and wants…except for one thing. She wants, much like her late husband did, for Clark to find his own way, but to use his talents in a way that will benefit all mankind…the choice is his to make though because, as Ma Kent says "…that's not our decision to make Clark. That you can do it doesn't mean it's right for you." Even so, Clark knows what he must ultimately do, especially after an alien threat of incredibly dangerous proportions to his adopted home world manifests itself. Only Clark has the ability, and the moral responsibility, to face this threat. The legend of the first and greatest superhero is born, and even though this newest re-imagining of the Man of Steel's origin is wonderfully contemporary, making him more realistic and relatable to than ever before, the story of Clark Kent as a man, and a Superman, is every bit as inspiring and moving as it ever has been. Actually,

Superman: Earth One

just might be the most inspiring re-imagining of the Man of Steel's origin of all time.

As readers of my work here at The Bin have noticed, I'm a pretty big fan of Superman. I'm a fan of his story, the allegory and metaphor of his tale, the sci-fi and action aspects of his stories, and yes…even the Boy Scout aspect of character. Clark is a good man who was raised by loving and caring parents. I find it incredibly inspiring and hopeful that a character can be created, adored by millions, and remain popular who by all rights should be the master and dictator of the world, but instead chooses to live his life in secret protection of a world that really doesn't deserve him in many ways. That is the beauty of the character and his tale. Just because he can do it (take over the world, live a life of luxury, etc) doesn't mean he should do it, and he doesn't do it. Just because one is physically stronger than someone or in a position of power over their fellow men, it doesn't make it right for him to dominate or exploit others. Respect for one another and our differences is perhaps the greatest human virtue to aspire to, and Superman is the ultimate example of this metaphorically.




So, in order to make Superman more contemporary, one might think that it would be necessary to retell his tale in a way that makes him a little less of a Boy Scout, a hero, or even less of a good person since unlike Superman, most men when they are in a position of power will most of the time dominate and exploit those around them. J. Michael Straczynski does not make this error. While this re-imagining of Clark Kent's first visit to Metropolis, meeting with Lois Lane and Jimmy Olsen, appearance as Superman, and first public battle is very contemporary (the Daily Planet is battling with the trend away from printed media and Clark does deal with modern existential angst now and again),

Superman: Earth One

is not a particularly dark story. Just because Clark is wearing a jacket with a sewn in hoodie, the type of jacket that is stylistically and popularly trendy right now with the cool kids, does not make him an "emo Superman." What makes this Superman tale more contemporary than the superficial aspects mentioned earlier, are aspects of his story that, while paying homage to and staying true to the original aspects of the tale of The Man of Tomorrow, are tweaked in a way that truly makes him a Man of Tomorrow for today. These changes are very subtle, yet very smart, and in every sense of the word make more sense contemporarily storytelling wise and thematically. I can't go into any further detail or I'll run the risk of spoiling this incredible tale. One particular, and pretty fundamental, change surrounding his biological home world makes this Superman tale very contemporary thematically. (Wow, I really wish I could just discuss it here…maybe in a few months I'll revisit this work since most of those who would be upset by spoilers will have read it by then and a spoiler warning won't keep people from reading the article.) Just believe me when I say that if you are a long term Superman fan, you won't be upset by these tweaks to Superman's tale. Trust me, I'm a Superman purist and, as stated, the aspects that make Superman great thematically are still intact, and I love the tweaks that Straczynski makes. They do not detract anything from Superman's tale. In fact, they add a great deal to it.

Details surrounding Superman's biological home world are not the only tweaks visible in

Superman: Earth One

. Artist Shane Davis, whose style is reminiscent of the now legendary style of Jim Lee, does an excellent job of illustrating Straczynski's tale. Clark's outfit, designed by his mother in the story (and the S-shield is a design of his parents' as well—much like it was in John Byrne's

Man of Steel

origin tale), looks like it would make a striking on screen impression. The blue color to the suit is more washed out and less vibrant, as are the colors in the cape and the S shield. This is a testament to Barbara Ciardo's coloring skills. Much like Straczynski's tale, this super suit is familiar and iconic, but subtly emanates a realism that often is missing from other artistic portrayals of Superman's suit. Davis has a superior grasp of the physical kinetics that are so necessary to an exciting portrayal of Superman's physical super heroics. The simple panel where Superman lands, after being clobbered by a super powered bad guy, on the side of a skyscraper, essentially catching himself catlike on it, really captures Davis' grasp of a cinematic-like awareness of what makes superhero type movement and action so appealing visually. As stated, Davis is definitely in what I have referred to before as the "Jim Lee School" of art. This is an overall strength. To be clear, while Davis' art is in the same "school" as Jim Lee, it is not a carbon copy of Jim Lee's art. The main bad guy in the tale though (again, who I can't go into detail about or risk ruining the story) looks a little too much like a Jim Lee type of villain. Honestly, he is very similar visually to the Jim Lee created X-Men villain Omega Red. Superman's nemesis looks more like a villain the X-Men would cross rather than a villain from the stars…Granted, this Superman villain is visually pretty unlike most of Superman's regular gallery of villains, but he just reminds one too much of the weird looking X-Men/Jim Lee/Chris Claremont type of villain. This is the only aspects of

Superman: Earth One

that bothered me and that I wish was presented differently.

Reviewers, including ones here at The Bin who have written some very different, but well stated reviews of this book, have referred to

Superman: Earth One

as the Ultimate Comics version of Superman. I myself have even though as much, but not in a derogatory sense. Ultimate Marvel opened up their characters to whole new characterizations that took many in a direction that rendered some of them almost unrecognizable. Anyone remember the sex crazed, cannibalistic, and murderous Ultimate Hulk?

Superman: Earth One

isn't meant to be a shocking and controversial re-imagining of a classic superhero created in order to garner the attention of Hollywood (Superman is already scheduled to return to the multiplex soon under the direction of Christopher Nolan and Zack Snyder), but is a contemporary rebirthing of a character that is at once one of the most recognizable superheroes of all time, yet perhaps the superhero most in need of a contemporary updating.

Superman: Earth One

accomplishes this task magnificently. If you think that Superman has become irrelevant or that the introduction of such a character, in today's psycho-killer as hero world of comic books, would never work, I encourage you to pick up

Superman: Earth One

and witness, again, the birth of a legend.



© Copyright 2002-2019 by Toon Doctor Inc. - All rights Reserved. All other texts, images, characters and trademarks are copyright their respective owners. Use of material in this document (including reproduction, modification, distribution, electronic transmission or republication) without prior written permission is strictly prohibited.