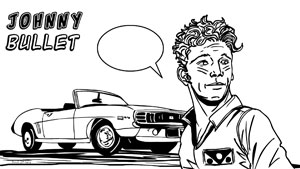 DC Comics
Super Sons #9 Review
By Deejay Dayton
Dec 28, 2017 - 12:42
Publisher(s): DC Comics
Writer(s): Peter Tomasi
Artist(s): Jorge Jimenez, Carmine di Giandomenico
Colourist(s): Alejandro Sanchez, Ivan Plascencia
Letterer(s): Rob Leigh
Cover Artist(s): Jorge Jimenez, Alejandro Sanchez, Dustin Nguyen
$3.99 28 pages

Super Sons 9 is the conclusion to the Planet of the Capes story arc. While not my favourite instalment of the tale, it does bring it to a clear conclusion.

The only thing that held this chapter back for me was the lack of villains. The use of the Forgotten Villains had been the highpoint of the arc, but at least the real Kraklow gets to explain how his doppleganger got the magic clay to create them.

So we get explanations, and lots of fighting against Yggardis to conclude the tale. Possibly because of this, this issue isn't quite as funny as the book usually is. Damien still gets some nasty one liners, and his ego gets challenged a few times, but there is more action and plot to deal with.

I really love the dynamic art in this issue. Jorge Jimenez keeps everything a bit off kilter, just enough stylization to suit the overall attitude of Tomasi's plots.

The story leaves open the possibility of return for the young heroes that Robin and Superboy worked with. I have to admit, I don't really care whether they come back or not. They didn't get on my nerves, but there also wasn't a single character among them that really stood out for me.


© Copyright 2002-2018 by Toon Doctor Inc. - All rights Reserved. All other texts, images, characters and trademarks are copyright their respective owners. Use of material in this document (including reproduction, modification, distribution, electronic transmission or republication) without prior written permission is strictly prohibited.