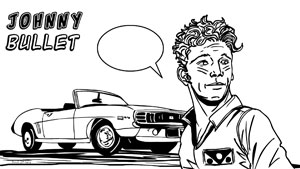 DC Comics
Suicide Squad #40 Review
By Deejay Dayton
May 2, 2018 - 21:34
Publisher(s): DC Comics
Writer(s): Rob Williams
Artist(s): Jack Herbert
Colourist(s): Hi Fi
Letterer(s): Pat Brosseau
Cover Artist(s): David Yardin, Francesco Mattina
$2.99 28 pages



Suicide Squad was a refreshing change of pace this week. So many DC books are coming to an end right now, but Suicide Squad is not one of those. I'm glad. Williams is in the middle of some interesting stuff with this book, and Jack Herbert's art on this issue is excellent.

The team continues to battle the Wall, and the person manipulating him gets revealed. It's not that hard to figure out, honestly, and I was ashamed that I hadn't guessed it.

Amanda Waller and her family are the ones in trouble this time, and she is placed into a position where she has to make what seems to be an impossible choice. But this is Amanda Waller, and she is usually one step ahead of the game.



For once, I didn't wind up feeling like the issue was too short. The action is well paced, and there is time for some interesting developments. Croc is made sympathetic, for once, and even Katana gets placed into what promises to be a good plotline.

I really cannot rave enough about the art. Herbert gives the characters such effective facial expressions, and the story is all the more powerful for it. There is pain, gentleness, humour, suspense and stuff getting smashed, and all of it looks perfect.

I am often quite hard on this book. I hold Ostrander's incarnation of the Squad in very high regard, and Williams' version is the first one since that which comes close. But since it comes close, I demand more from it.

This issue is, in every way, a worthy successor to Ostrander. It's the Suicide Squad that I have always wanted to read.


© Copyright 2002-2018 by Toon Doctor Inc. - All rights Reserved. All other texts, images, characters and trademarks are copyright their respective owners. Use of material in this document (including reproduction, modification, distribution, electronic transmission or republication) without prior written permission is strictly prohibited.