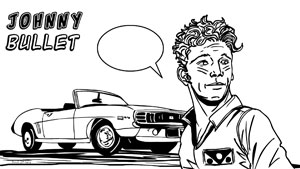 DC Comics
Suicide Squad #35 Review
By Deejay Dayton
February 16, 2018 - 10:54
Publisher(s): DC Comics
Writer(s): Rob Williams
Penciller(s): Eduardo Pansica
Inker(s): Julio Ferreira
Colourist(s): Adriano Lucas
Letterer(s): Pat Brosseau
Cover Artist(s): Jason Wright, Andrea Sorrentino
$3.99 28 pages

Well, I was wrong in my last review. I thought a new writer had taken over Suicide Squad, but Rob Williams is back in this issue. Nicely, there is a visual connection to last issue's story, although a bleak and grisly one.

I have long bemoaned the lack of politics in Williams' run on this book. Perhaps things are changing. The story opens by introducing a new government super-soldier, named the Wall. The story informs us that the name is intentionally designed to irk Amanda Waller, but the word, combined with the aura of white nationalism around the character, evokes Trumpism.

Now maybe I am completely wrong about that. The rest of the story does not get into politics, and the cover is by the Nazi scumbag Ethan Van Sciver. I wouldn't touch this book had I not been given a reviewer copy. I will never support a racist homophobe like him, and avoid any of his tainted work, no matter how good an artist he is.

Anyway, Williams does a good job on characterization in this issue, and lays a lot of groundwork for other developments, all while centring on Amanda Waller. Things are not going her way, not with the Squad, with Rick Flag, or with her personal life. I actually felt extremely sorry for her before the issue was up, which is quite something to pull off.

And I haven't yet mentioned that the new incarnation of Damage shows up, ripping his way through the Squad, or the return of Hack, a character who I am very glad to see back, now more dangerous than ever.

Had the cover been done by a decent human being, I would highly recommend this issue. If you have no problems with Nazis, go for it. But if you do, perhaps you could spend your money better.


© Copyright 2002-2019 by Toon Doctor Inc. - All rights Reserved. All other texts, images, characters and trademarks are copyright their respective owners. Use of material in this document (including reproduction, modification, distribution, electronic transmission or republication) without prior written permission is strictly prohibited.