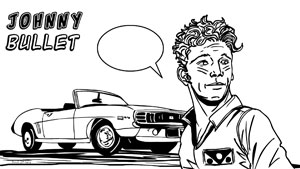 Marvel Comics
Star Wars #21
By Arch Snite
August 14, 2016 - 20:16
Publisher(s): Marvel Comics
Writer(s): Jason Aaron
Penciller(s): Jorge Molina

Something is rotten in the Galactic Empire. Or the New Republic. Or the First Order. Or whatever we're calling it these days.

I'd love

Star Wars

#21 if it weren't a

Star Wars

story. The action is terrific, the art is attractive, and the layout's in perfect step with the pace. The problem? This issue misses the spirit of the franchise, even more than

Attack of the Clones

.

To writer Jason Aaron's credit, he's a decent scribe. The story's delivered mostly through the internal monologue of Sergeant Kreel, a stormtrooper officer and leader of the Special Commando Advanced Recon (SCAR— kind of a cool name) team. The alternation of sober backstory and exposition in Kreel's monologue, with the convincingly clipped military dialogue between SCAR soldiers, is well balanced, if a little cliche. The action's great, too, and Jorge Molina captures some of the same energy that made the original trilogy so joyously escapist.

However, I've got a bad feeling about this. And not the amorphous, original trilogy kind.

Kreel's character development is an example of how

Star Wars

is ceasing to be

Star Wars

under Disney's control.

Kreel loves the Empire because of their brand of order. "The Rebels want you to think they're fighting for freedom. Don't believe a word of their lies. I never knew freedom existed until the Empire came. Freedom means law. Freedom means order. All the Rebels want is chaos." Why does Kreel love an "order" that, despite this, destroyed Alderaan? The Empire liberated his planet from a corrupt and violent caste system, and gave him a chance at a better life.

Two problems with this.

First, nothing in the original trilogy suggests that the Empire would take down a corrupt system. "Fear will keep the outlying systems in order," Grand Moff Tarkin says after announcing the Senate's dissolution. That's not the sentiment of a man, or a system, that would spend resources overhauling a corrupt planet's politics.

Second, the way Aaron's humanizing the stormtroopers is out of line with how the original

Star Wars

works. Not that

Star Wars

doesn't have room for nuance or humanized villains (like Vader's transformation in

Jedi

). Aaron's story is confused because

Star Wars

isn't about politics. At no point during the original trilogy do you see a stormtrooper's face. The Imperial officers whose faces you do see are were always hidden behind a convincing mask of arrogance. In either case, that "mask" was there for a reason.



Star Wars

isn't about reality, be it physical or political. If it were, the dismemberments (Luke's hand, Qui-Gon's stomach hole) wouldn't be so clean. The blasters would leave burning holes in people. There wouldn't be noise in space.

Lucas famously called

Star Wars

space fantasy. Not science fiction, not political fiction. The universe of

Star Wars

is closest, if anything, to fairy tale or myth (the sterilized, Americanized type that makes the Grimms less, well, grim).

A shoutout to anyone listening at Marvel, Disney, or Lucasfilm: please stop altering this franchise. We had one franchise-altering event with the prequel trilogy, but that at least had the creator's stamp of approval (thank the maker…sort of?). Please don't drag this story and this universe any further from its roots.

On the other hand, universes change. Franchises change. It happens. Before I get any further depressed, I'm going to go read Splinter of the Mind's Eye and put the wilhelm scream on loop.

Worth the money? This isn't the comic you're looking for.

© Copyright 2002-2019 by Toon Doctor Inc. - All rights Reserved. All other texts, images, characters and trademarks are copyright their respective owners. Use of material in this document (including reproduction, modification, distribution, electronic transmission or republication) without prior written permission is strictly prohibited.