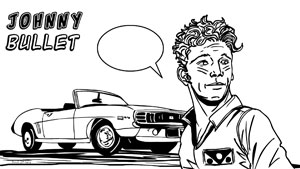 Movies
Star Trek Into The Darkness Trailer
By Patrick Oliver
December 8, 2012 - 21:07
Studios: Paramount Pictures
Starring: Chris Pine, Zachary Quinto, Zoe Saldaña, Karl Urban, Anton Yelchin, John Cho, Simon Pegg, Benedict Cumberbatch, Alice Eve, Peter Weller
Directed by: J. J. Abrams
Produced by: J. J. Abrams, Bryan Burk, Alex Kurtzman, Damon Lindelof, Roberto Orci
Running Time: TBC
Release Date: May 17, 2013
Distributors: Bad Robot Productions, K/O Paper Products, Skydance Productions
Genre: Sci Fi

A specter from Star Fleet's past returns to cause havoc, mayhem and exact revenge.



Star Trek was a very successful movie, both commercially and critically and as a fan of previous series and movies (well, some of them anyway, haha). I absolutely loved what J.J. Abrams and the team did to invigorate the franchise and make it their own.

I can't wait to watch this one. The trailer promises plenty of action, emotional turmoil/development and personal revelations. And fun! Enjoy.

© Copyright 2002-2022 by Toon Doctor Inc. - All rights Reserved. All other texts, images, characters and trademarks are copyright their respective owners. Use of material in this document (including reproduction, modification, distribution, electronic transmission or republication) without prior written permission is strictly prohibited.