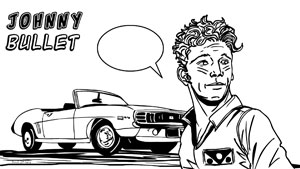 Marvel Comics
Spider-Man Loves Mary-Jane #5
By Zak Edwards
December 11, 2008 - 16:50
Publisher(s): Marvel Comics
Writer(s): Terry Moore
Penciller(s): Craig Rousseau
Colourist(s): Guillem Mari
Letterer(s): Dave Sharpe
Cover Artist(s): Terry Moore & Christina Strain
$2.99 US

The solicitation for the last installment of Terry Moore and Craig Rousseau's five issue arc on Spider-Man Loves Mary-Jane reads "It's over already!? But we were just getting started!" Afetr reading this issue, all I can say to that is "No kidding." Terry Moore created many elements of these five issues which in no way could be all resolved within this arc, and so the final issue leaves readers wanting more. Probably a smart move from a marketing perspective, but one can only think of the words 'indefinite hiatus' and this series becomes a little more disappointing. But besides a foggy ending, Moore has crafted a very well done story only aided by Craig Rousseau's expressive artistic style.

Terry Moore's characterization really takes this arc from good to great, his ability to use the established characters of a single writer and pull off a story which is unique while still in keeping with the original is no small feat. The characters are a perfect mix of exaggeration and believability, allowing for melodrama which doesn't get out of hand. Sure, there are plenty of things which are fairly crazy, someone obsessively updating a website to insult the main character being one of them, but it all fits together in Moore's world. Moore does attempt to resolve much of what he started, but not much which he didn't create himself. The tension between Harry and Mary-Jane is clarified, if not fully resolved, in a satisfactory way and the website is put to rest and places Mary-Jane on some higher moral ground. Overall, she is a very sympathetic character and Moore allows for her to rise above what happens to her. I must say though, Mary-Jane is also very passive this issue and in Moore's run, sort of just allowing things to happen over taking action. But this does not really interfere with the quality of the story, which still remains good.

Craig Rousseau's art still fits the series and Moore's writing perfectly, animated and expressive without too much over the top actions. The colouring in this series has been equally well done, with the palette being bright and bold. The shading can really drive home mood a little too much sometimes. For example, Mary-Jane is sitting in a park feeling sorry for herself and she is surrounded by a shadow focusing solely on her, which is fairly difficult to swallow. But that is a fairly specific complaint which does not interfere with the quality of the art very much. Overall, the story and the art line up perfectly, not much more one can ask for.

7.5/10 Disappointing ending, but overall this arc has been very good.
© Copyright 2002-2019 by Toon Doctor Inc. - All rights Reserved. All other texts, images, characters and trademarks are copyright their respective owners. Use of material in this document (including reproduction, modification, distribution, electronic transmission or republication) without prior written permission is strictly prohibited.