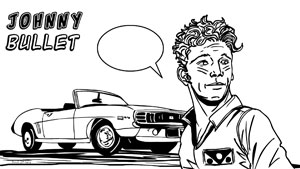 Comics Movie Reviews
Shazam! – The Better Captain Marvel Movie
By Hervé St-Louis
April 8, 2019 - 08:30
Studios: Warner Bros., DC Entertainment, DC Comics, New Line Cinema, Seven Bucks Productions, The Safran Company
Writer(s): Henry Gayden, Darren Lemke
Starring: Zachary Levi, Asher Angel, Jack Dylan Grazer, Mark Strong, Djimon Hounsou, Grace Fulton, Faithe Herman, Ian Chen, Marta Milans, Cooper Andrews, Jovan Armand, Adam Brody, Meagan Good, Michelle Borth, Ross Butler, D.J. Cotrona, Caroline Palmer
Directed by: David F. Sandberg
Produced by: Peter Safran,
Running Time: 132 minutes
Release Date: 5 April, 2019
Rating: PG13 (Parents Strongly Cautioned)
Distributors: Warner Bros.

Young orphan Billy Batson has a new foster family that he resents however before he can runaway the kid receives the power of the wizard Shazam so that he can stop Dr. Sivana, enabled by the Seven Deadly Sins. Will Billy Batson be worthy enough of being the long-sought champion of the wizard Shazam and save the world and his foster family from Dr. Sivana?



Shazam!

Feels like a 1980s kids movie that does not talk down to children with educational material and a lesson to learn. Well, there are many lessons as Billy Batson goes through a hero's journey while dwelling in the same kids adventure material as Netflix's

Stranger Things

. There are echoes of 1988's

Big

starring Tom Hanks. This is also the most Disney-like super hero-movie outside of Pixar's

The Incredibles

.

Many people who see this film will not know that the unnamed hero (he goes by many names in the film) is the original Captain Marvel created in 1940* as a direct competitor to Superman but with a strong infusion of Horatio Alger's

Ragged Dick

. In the comics, Billy Batson is a self-reliant orphan whose heart is so pure that he is chosen as the champion of the wizard Shazam. Captain Marvel is also the inspiration for Marvel Comics'

Thor

. The original Thor from the comics could change from a crippled medic to an Asgardian god by hitting his cane on the ground and being hit by thunder. Marvel Comics' Captain Marvel also could switch bodies between the Kree hero and his human sidekick.

DC Comics did not use an overt strategy to promote Shazam! unlike

Aquaman

which was released months earlier. The slow approach and word of mouth is all that DC Comics and Warner Brothers have to promote this movie. It is a shame although it seems a calculated move to counter the other

Captain Marvel

movie and the upcoming Avengers' film. Undersell and let people discover what will undoubtedly become a Christmas classic in a few years. Captain Marvel is family movie set during the Christmas season as a backdrop.

There have been many candidates to become the new Captain Marvel and that is what Dr. Sivana is trying to understand and replicate. He wants the power of Captain Marvel which he was denied for himself. He will destroy Billy Batson's adopted family if the young hero refuses to cooperate. I am glad that I limited the previews of this film to a minimum and did not know what to expect.

Zachary Levi shines as Captain Marvel but of the kid actors, stand outs are Jack Dylan Grazer who plays Billy Batson's adopted brother Freddy Freeman and Faithe Herman as his younger sister Darla Dudley. Asher Angel who plays Billy Batson is good but not the best. His personality does not really match Zachary Levi's. Perhaps Dylan Grazer would have been a better fit as the young Billy Batson. There is not enough likability with Angel. That and Mary Bromfield's performance are the weakest parts of the movie. I still wonder what her powers were exactly as Mary Marvel.

The story and origin of Captain Marvel and Dr. Sivana are standard. One can see plot points and twists happening a mile away. It does not matter as the story is enjoyable and tries to do something different with the super hero genre. Family is a strong theme in this film, much more so than the original Captain Marvel stories from the 1940s and thereafter. Captain Marvel has always been seen as a goofy version of Superman. He is no longer this in this film, thanks to heavy borrowing from executive producer Geoff Johns's update from the comics.

Unlike the other Captain Marvel starring in a movie currently, this Captain Marvel does not deal with universal threats even though Dr. Sivana's aim does just that. Instead, the focus is not even on rescuing his town, Philadelphia but his family. Dr. Sivana, I would argue, as a villain does not rise to the full potential of trying to conquer the world like his fellow villains. His obsession is Billy Batson and his powers.

This Captain Marvel is unpretentious, unlike Marvel Comics' version playing in theatres at the same time. I will not avoid the comparison between the two movies. I was bored with Marvel's

Captain Marvel

. It was a competent and technically sound movie with more budget allocated for visual effects and publicity. DC's

Shazam

! had less of everything, except for soul. Of the two movies, I would go back to see

Shazam!

again. I have no interests in watching Marvel's

Captain Marvel

anytime soon.

It is a pity that if DC did call its hero Captain Marvel in its film that it would be infringing on Marvel's trademark or potentially setting up the stage for a lawsuit. For years, Marvel Comics, understanding that it had trademarked the name sneakily allowed DC Comics to use the name Captain Marvel in the comics. But with billion dollars stakes right now, DC and Warner Brothers have decided to focus on what made their Captain Marvel a more popular super hero than even Superman historically. With

Shazam!

, it is easy to see which Captain Marvel is the best.

The visual effects of the Seven Deadly Sins were cheesy and not at the same level as the rest of the film's effects. Finally, the musical score is not as memorable as

Aquaman

's or

Wonder Woman

's. I believe that a strong score would help cement the film in viewers' minds. Despite these criticisms, I think that

Shazam!

is the best DC Comics film but it may not get the recognition it deserves due to a weak marketing and promotional campaign.





*Many people claim that Captain Marvel and

Whiz Comics #2

were published in 1940, relying on the cover date which was February 1940 but the comic book was released in 1939.
© Copyright 2002-2022 by Toon Doctor Inc. - All rights Reserved. All other texts, images, characters and trademarks are copyright their respective owners. Use of material in this document (including reproduction, modification, distribution, electronic transmission or republication) without prior written permission is strictly prohibited.